Guidance
Guidance covers directing values, strategies, policies (ESG coverage, link to SDG); Board's role in stakeholder engagement and setting materiality thresholds; setting key performance indicators and targets and incentivizing management by linking executive compensation to sustainability metrics.
Right guidance is required for companies to manage risk and capitalize on opportunities related to sustainability, as well as taking a leadership role in creating a more sustainable future. Responsible boards make sustainability a leadership priority and ensure they have the right people (skills and diversity) to provide leadership and direction on sustainability.
Global Sustainability Leaders pave the way by focusing on how to effectively capture value from environmental, social, and governance (ESG) issues integration and prioritizing ESG most relevant to their business. Responsible boards provide guidance to:
Ensure comprehensiveness of scope for sustainability guidance by integrating ESG into the company's value proposition, policies and strategy
Demonstrate holistic thinking and adopt a long-term view on value creation and leverage Integrated Reporting to articulate their sustainability story;
Adopt a comprehensive view of stakeholders including communities and the environment, and establish trust by increasing transparency and engaging proactively;
Conduct regular materiality analysis covering ESG issues to focus on what matters for the company as well as for its stakeholders;
Provide linkages with SDGs to guide their sustainability thinking and materialize their contribution to solving complex global challenges;
Identify key performance indicators to guide strategy and set ESG targets that are relevant, meaningful, measurable and sufficiently challenging to drive performance;
Incentivize management and ensure sustainability initiatives are adopted throughout the organization by linking executive compensation to sustainability metrics.
Board Skill and Diversity
Board members need to have the right skills to provide guidance and oversight to the sustainability plans of the corporation. The Board needs to have sufficient expertise to understand the decision-making processes of key stakeholders, have members who are familiar with evolving sustainability standards and practices, and sufficient diversity to adequately evaluate different dimensions, perspectives and risks of sustainability issues.
A skills matrix identifies the skills, knowledge, experience and capabilities desired of a board to enable it to meet both its current and future challenges and realize its opportunities. Disclosing a skill matrix is good governance and offers an opportunity for considered reflection on whether the board has the right skills and diversity for providing guidance and oversight on sustainability.
Our research reveals that the assessment of functional skills and the use of skill matrices is still not widespread, even among leading companies.
We find that only 26% of Global Sustainability Leaders reported a board skills matrix, and only 11% of GSLs identified sustainability as a required board member skill.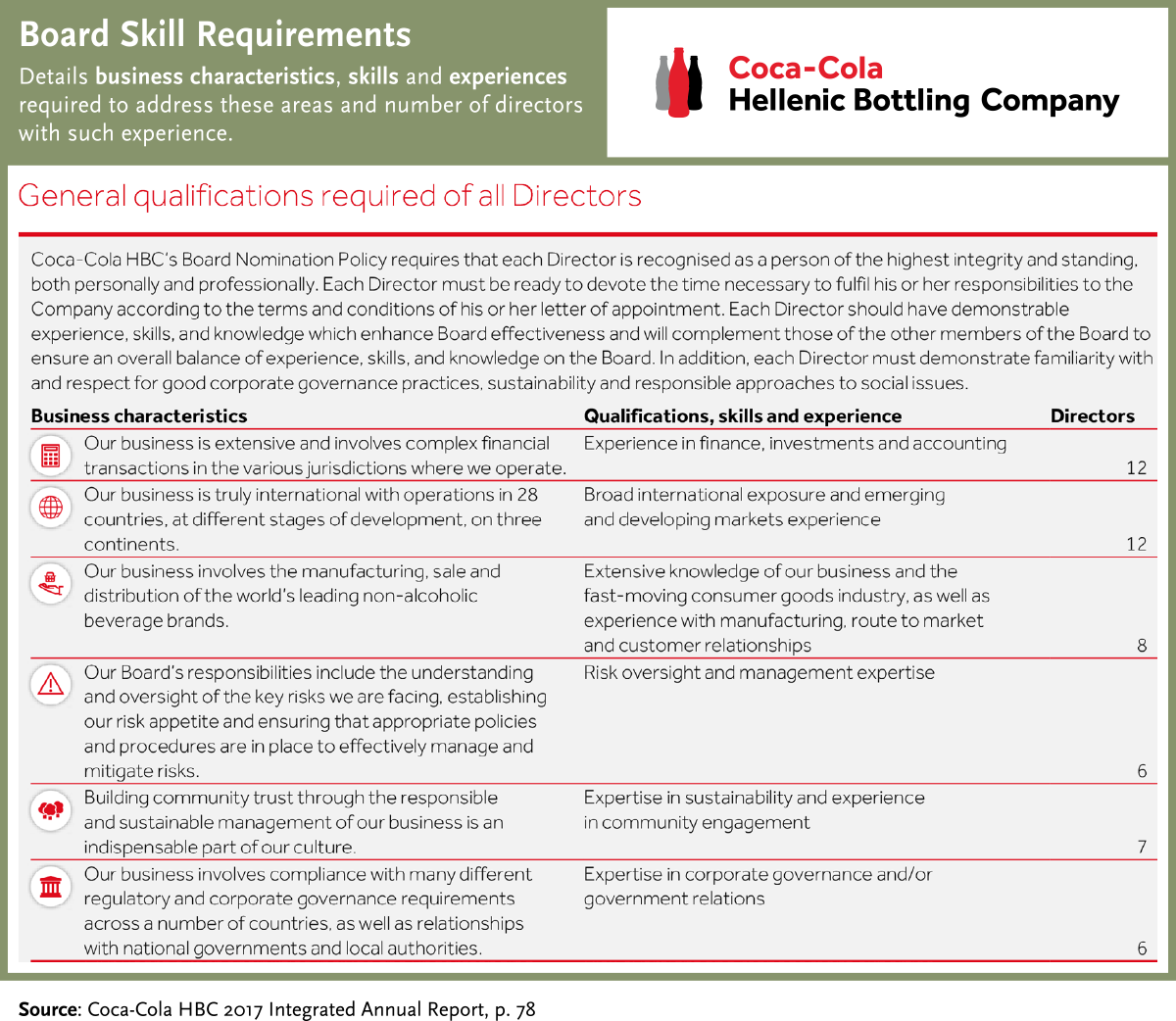 For example, Coca Cola HBC provides an aggregate view of the required board skills by describing the required business characteristics and providing an assessment of the number of board members who fit the criteria. At the same time, it describes the requirement for board members to "demonstrate familiarity and respect for good corporate governance practices, sustainability and responsible approaches to social issues".
Sustainability-related skills requirements can cover a wide range of ESG issues, which are necessary for board members to understand the sustainability risks and impacts across the corporation's value chain and how this might impact the business model and competitive positioning of the corporation. Boards also need to have the skills and experience to provide guidance on sustainability driven innovation and value creation opportunities.
In its board skills matrix, Anglo American Platinum explicitly shows sustainability as a required skill and provides in depth information on sustainability-related board skill requirements including safety, health & environment, energy, water use, rights, waste technology and community knowledge.
Managing sustainability is complex and requires multiple perspectives to be represented for the board to effectively engage in strategic discussions and make long-term business decisions. We find that best-in-class companies ensure that their boards are fit to drive change towards a sustainable business by having diverse boards and assess diversity across multiple dimensions including age, tenure, gender, ethnicity, cultural background; geographic, functional and industry experience.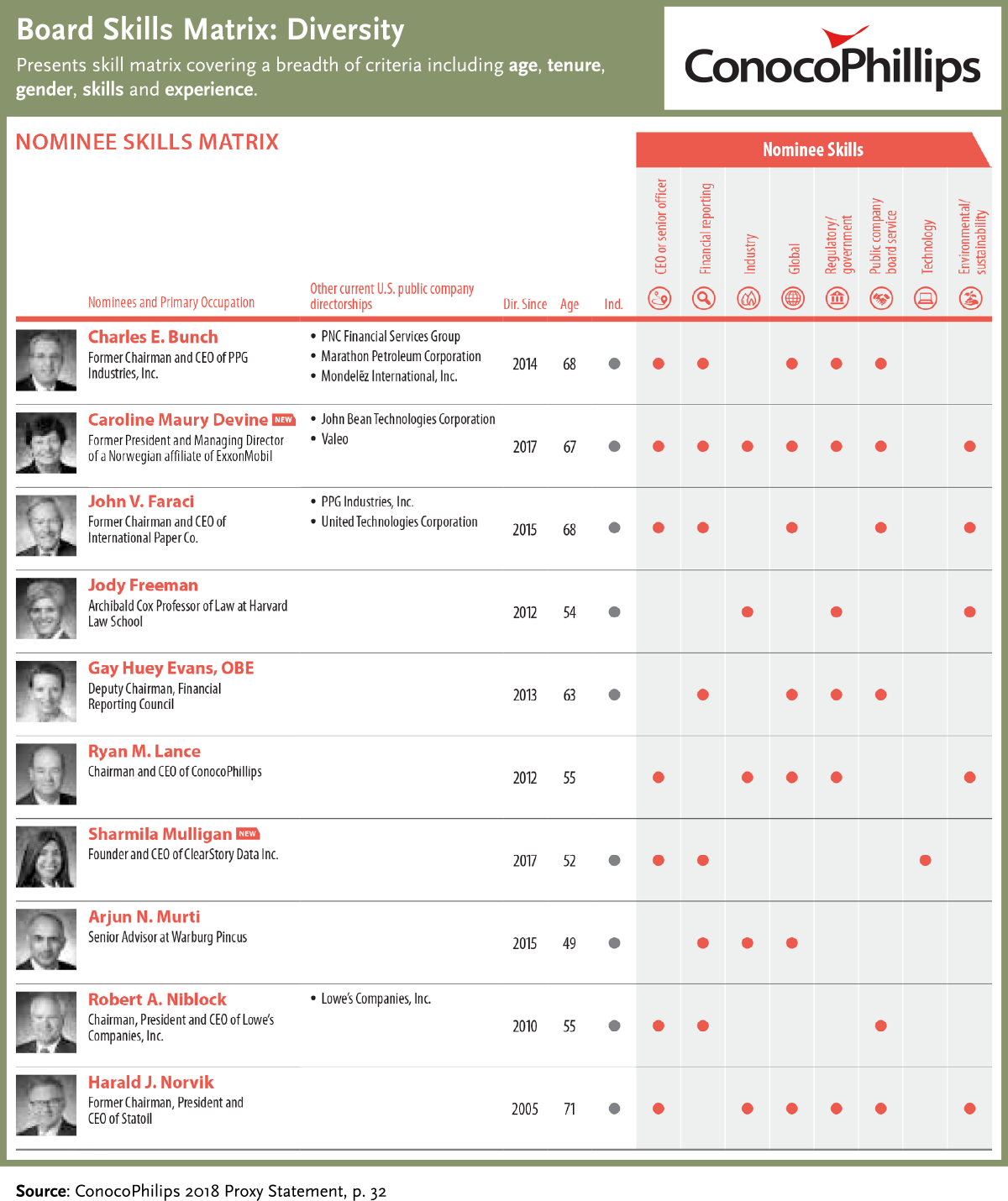 Conoco Phillips skill matrix shows a breadth of criteria in a single chart, including age, tenure, gender, skills and experience. Age diversity can allow the board to better understand the sensitivities of different cohorts of customers and stakeholders. Tenure diversity would help avoid group thinking. Skills diversity would allow the board to adequately evaluate the different dimensions, perspectives and risks of sustainability issues. Experience (industry) diversity can be useful for benchmarking opportunities.
Having the right skills, experience and diversity is the first step – but there must be productive dialogue within members of the board to reap the benefits of diversity. This requires experienced, collaborative and responsible board members, and strong board culture based on trust. Proper examination of diversity of mind would need a review of board proceedings to see if different alternatives and their potential impacts are evaluated and challenged with respect to risk and reward, short-term and long-term effects, and effects on different stakeholders.
Value Creation Model
GSLs are setting examples for the rest of the world on creating a value proposition around ESG. From a stakeholder perspective, articulating a holistic story of how a company creates value for the company, society and the environment and sharing progress of this journey is a strength. For investors, it offers a proxy for management quality; for customers, it allows responsible choice and enhances brand loyalty; for governments; it highlights where to partner for global action; for communities; it allows a company to maintain its social license to operate.
We find that GSLs have taken on this challenge and integrated ESG issues into their value creation approach, policies and KPIs.
Global Sustainability Leaders integrate sustainability into their core value creation model and lead the way in extending their strategy and management beyond pure financial outcomes, to encompass environmental, social, and governance-related factors that are critical for the future viability of their organizations.

Best examples of holistic thinking on value creation are found in companies that embrace Integrated Reporting. Integrated Reporting is a holistic tool to help companies tell the story of how they create value now and in the future. It is also a transparency and communication tool and can form the basis of constructive dialogue with investors as well as other stakeholders.
We find that companies embracing the Integrated Reporting (<IR>) Framework seem to have better chances of incorporating sustainability into their culture by providing better governance of their sustainability efforts.
Among the GSLs, 11 out of 30 Tier 1 companies have <IR>, whereas among Tier 5 companies, there is only one company with <IR>.
Companies can use Integrated Reporting as a transformative tool for continuously getting better at managing sustainability and stakeholder engagement.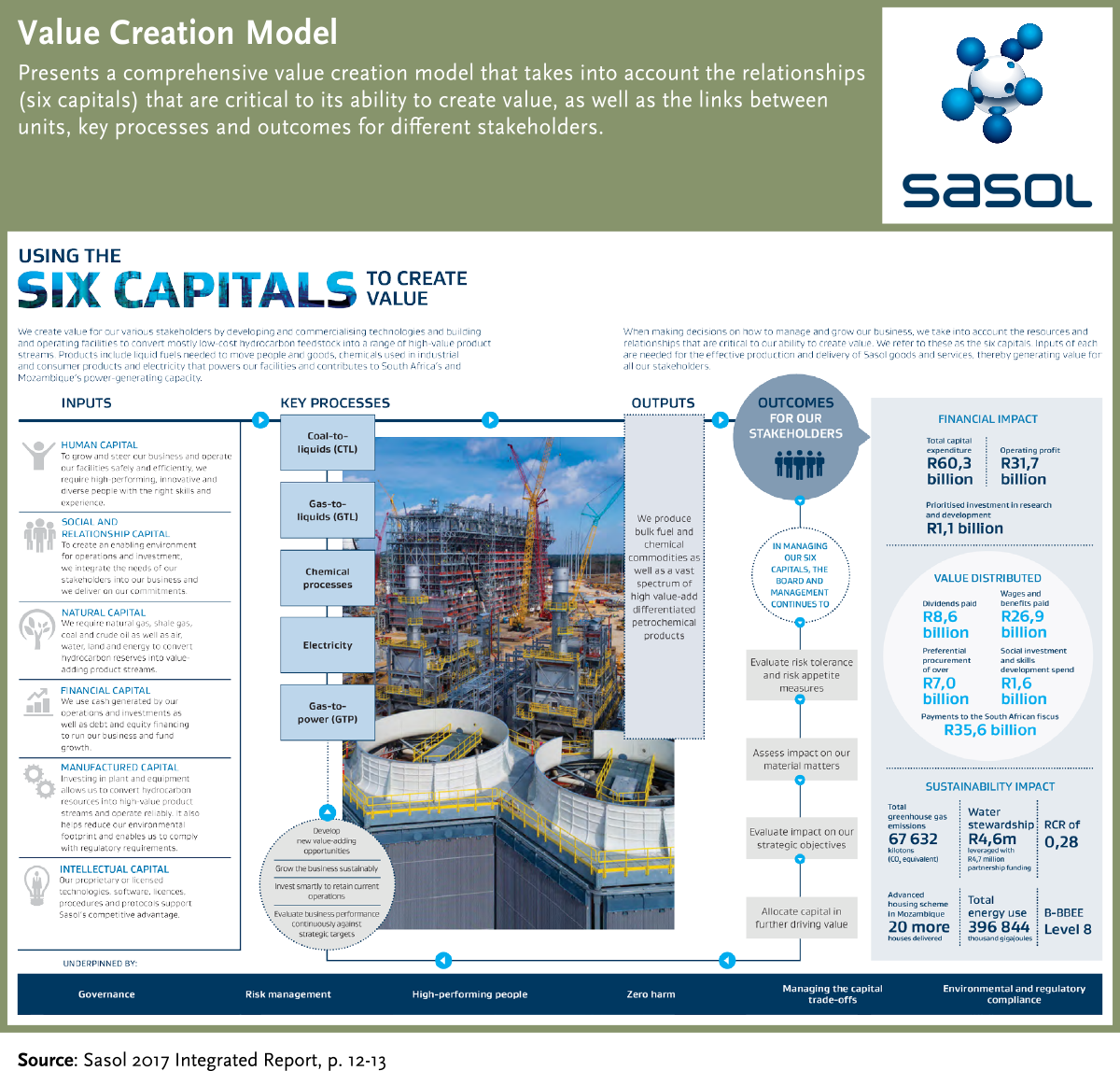 Sasol presents a comprehensive value creation model that considers the relationships (six capitals) that are critical to its ability to create value. In a single chart, it presents the links between inputs, key processes, outcomes for stakeholders, as well as the financial and sustainability impact of its operations.
At the minimum, this approach enables companies to present linkages between and manage a diverse set of risks that can arise from complex environmental, social and governance related issues. Some companies go further and take on a leadership role to prove that "Doing good is good business" by putting sustainability at the core of their value proposition. These leaders have come to realize that, if sustainability issues are becoming relevant for large numbers of people throughout the world, addressing them properly would be a good business case for satisfying a global need.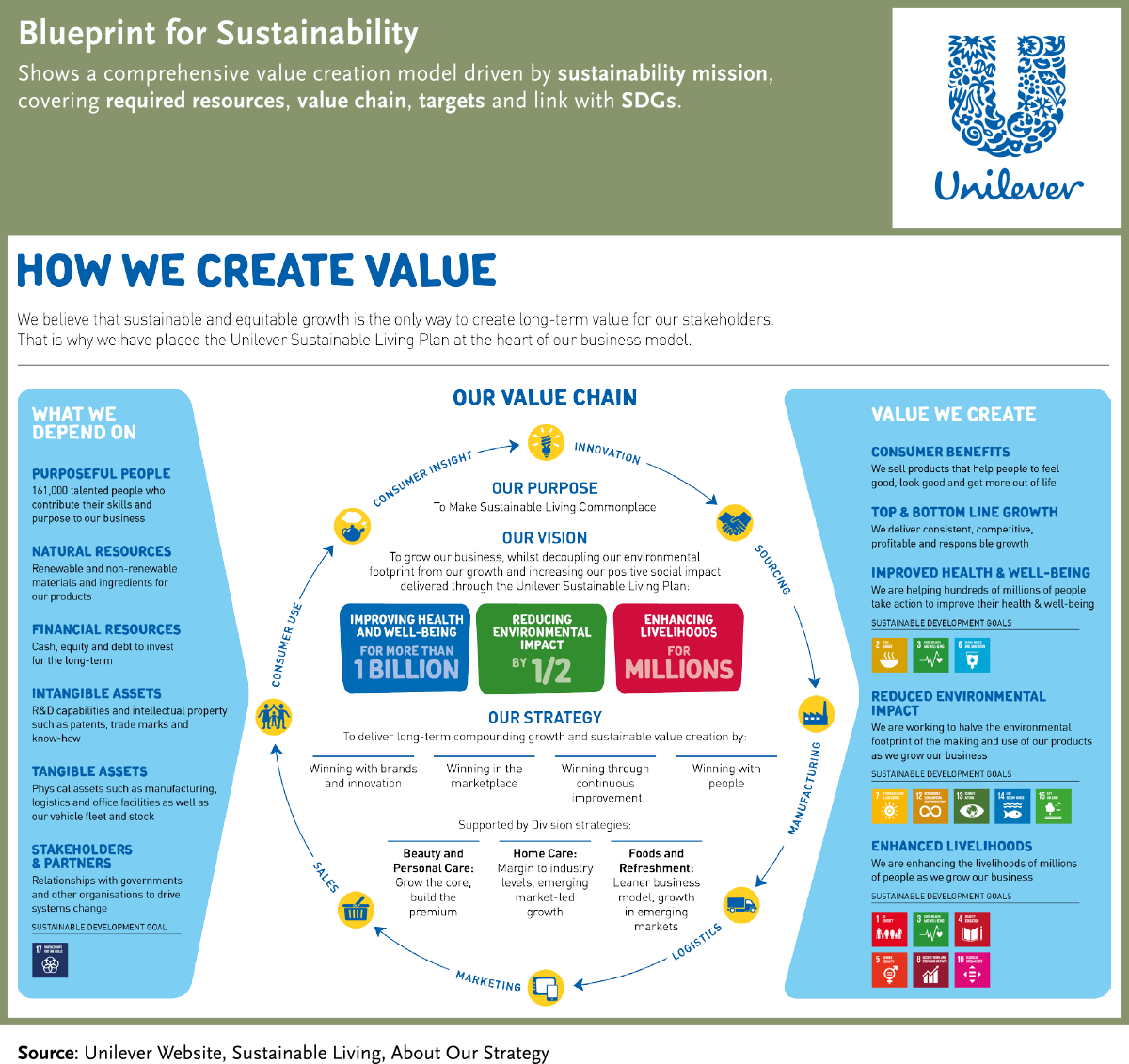 Unilever's Sustainable Business Plan is one of the leading examples on how to use purpose to drive profits. The chart clearly shows that vision (purpose 'to make sustainable living commonplace') drives the strategy. The plan covers a comprehensive range of resources that the company depends on (purposeful people, natural resources, financial resources, intangible assets, tangible assets, suppliers, stakeholders and partners) and encompasses the entire value chain (consumer benefits, top & bottom line growth, improved health & wellbeing, reduced environmental impact, enhanced livelihoods). The value creation model is linked with relevant SDGs, signaling that Unilever recognizes its role in contributing to solving global challenges. The chart serves as a blueprint for Unilever's brands to achieve their vision of growing the business, whilst decoupling the company's environmental footprint from its growth and increasing positive social impact.
At the core, this blueprint reflects Unilever's mission to change the way people see businesses as value creators and community builders, and to get them to rethink business fundamentals that lead to financial returns. To achieve targets, Unilever had to look across its supply chain, rally industry leaders behind the commitment to source from sustainable resources, focus on raising awareness to change customer behavior and on designing products to minimize the environmental impact. Beyond the targets, Unilever highlights that it has inspired innovation, new ways of doing business and purposeful brands.
Stakeholder Engagement
The success of a company depends on its relationships with the external world, not just customers and investors, but also employees, regulators, politicians, activities, NGOs, the environment and technology. Good governance covers all stakeholders to achieve balance between risk/reward, short/long-term, stakeholder goals, motivate/audit management.
Our research reveals that even among GSLs, companies take too narrow a view of the relevant stakeholders and are too focused on limiting the downside.
We find that all the companies analyzed measure value for internal stakeholders, but only 44% for external stakeholders.

Stakeholder engagement is a critical process that helps companies understand their key environmental and social impacts and identify sustainability risks and opportunities. For this process to be effective, there should be open communication, with an intent on understanding concerns and creating dialogue for establishing trust-based relationships. Best-in-class companies adopt a long-term, comprehensive view of their stakeholders to encompass external stakeholders and clearly articulate how the fulfillment of their purpose benefits society to foster dialogue: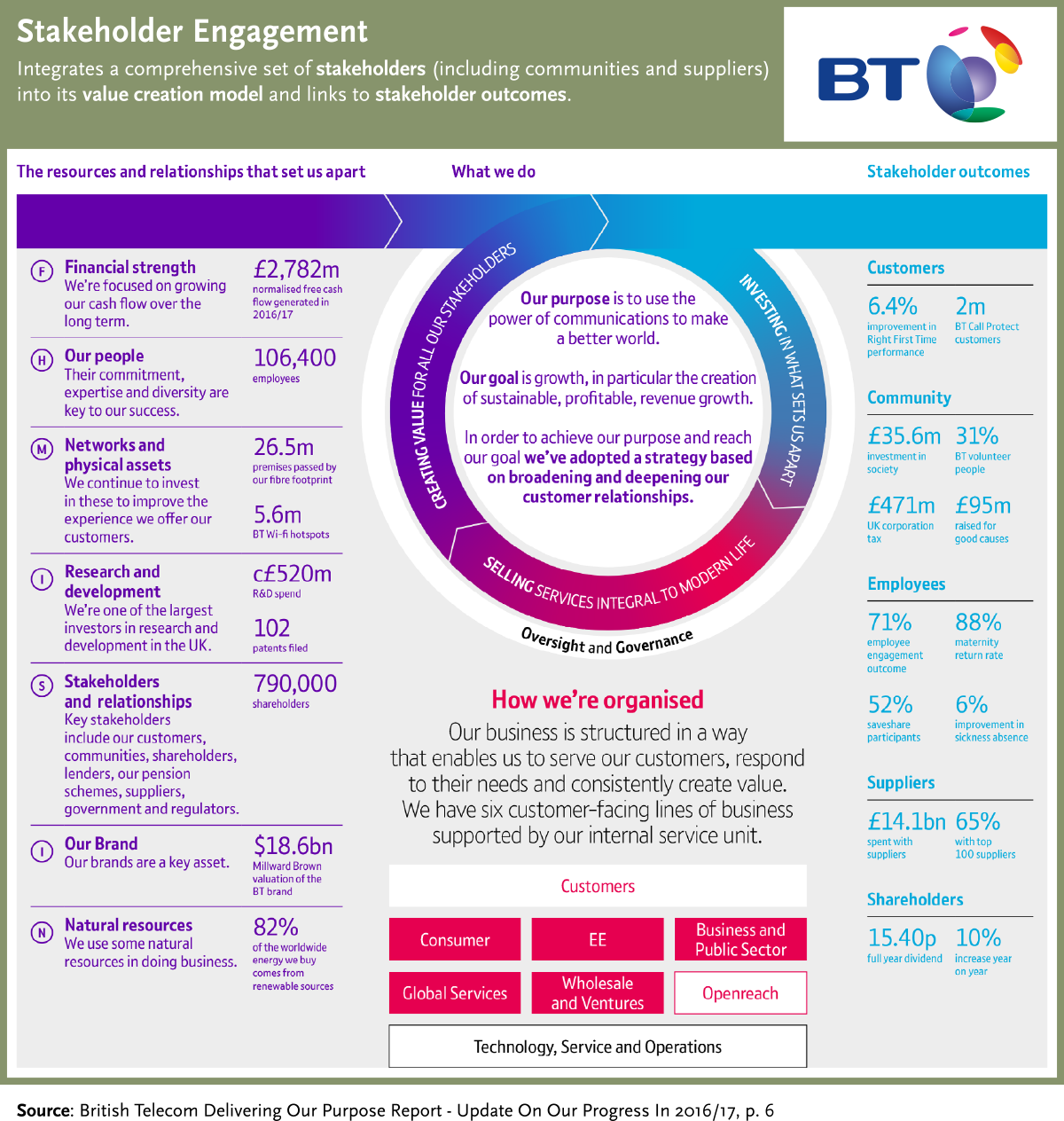 British Telekom integrates a comprehensive set of stakeholders (including communities and suppliers) into its value creation model and links to stakeholder outcomes. The company clearly articulates its purpose and assumes leadership for sustainability: "Our purpose is to make sure of the power of communication to make a better world." On the left side of the chart, all six capitals of the business model have been cited and their values have also been included.
An adequate stakeholder engagement process is a multi-step, continuous process. First, the company needs to prepare a map of its key stakeholders for the issue at hand. What matters here is to adopt a comprehensive view of stakeholders to include all relevant communities and the environment. Then, the company needs to define the stakeholder engagement scope, which determines the issues of engagement (environmental, social, economic). It is important that companies focus on issues which are most relevant to the firm's core value proposition, in order to mobilize resources for a step-change in selected areas. The engagement model should be defined based on stakeholder requirements and can cover several models including communication, consultation, participation on partnership. Tools of engagement may include interviews, workshops, focus groups, town-hall meetings, stakeholder perception surveys, stakeholder panels and joint decision-making.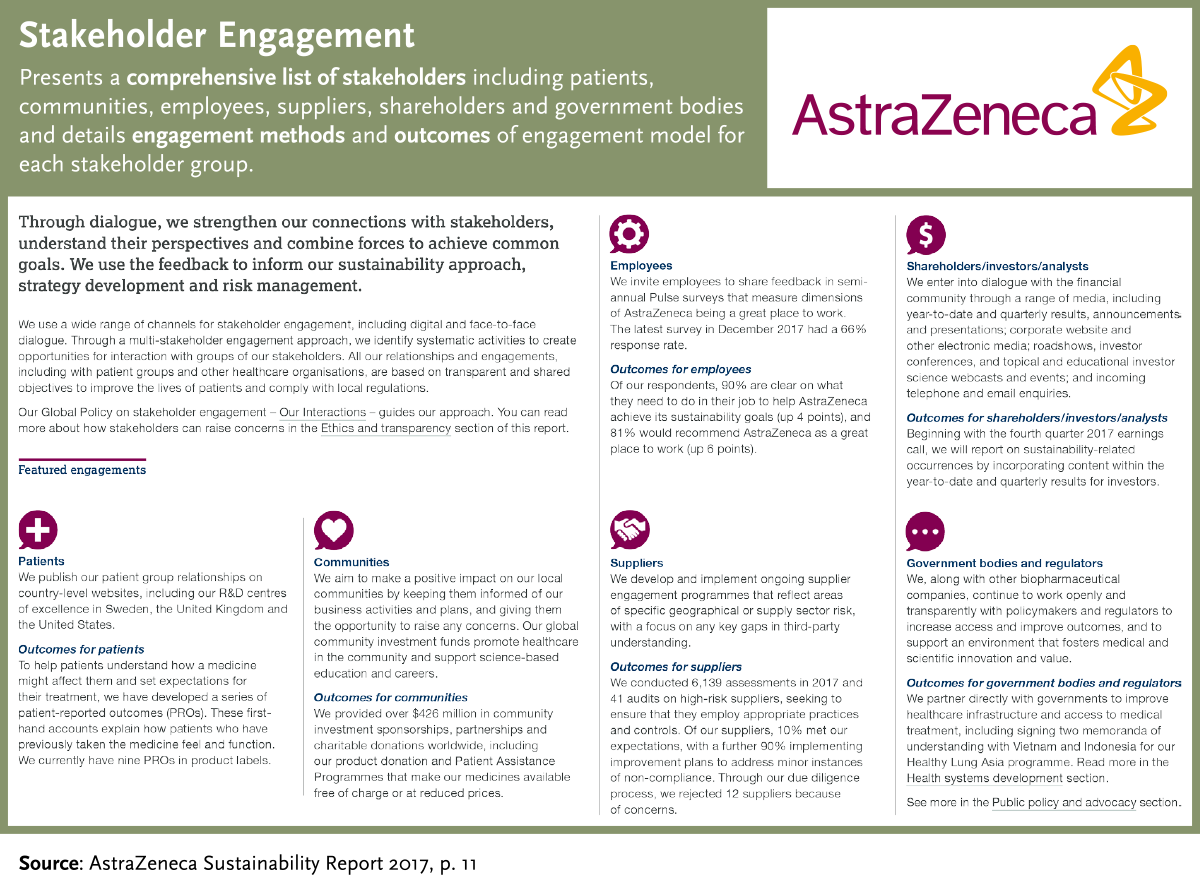 In this chart, Astra Zeneca presents a comprehensive list of stakeholders including patients, communities, employees, suppliers, shareholders and government bodies. A list of engagement methods for different stakeholder groups as well as the outcomes of engagement are shared, providing an opportunity for investors to make a reliable assessment. Furthermore, the chart explicitly mentions the right attitude for engaging with stakeholders "Through dialogue, we strengthen our connections with stakeholders, understand their perspectives and combine forces to achieve common goals," as well as how feedback from stakeholders inform the company's sustainability approach, strategy development and risk management.
In order to gain and retain the trust of stakeholders the most important issue is to have the right attitude. The yardstick should be the ethic of reciprocity or the golden rule that is prevalent in most religions and philosophers' writings summarized as "Do unto others as you would have them do unto you."
The boards need to understand the key issues raised by the stakeholder engagement process and how the management plans to address them. Furthermore, the board needs to have a process to evaluate the management's sustainability plans to address the key issues.
Materiality
According to a recent study only 20% of an S&P 500 company's market value can be explained by its physical and financial assets (down from 83% in 1975) and the remainder comprises intangible factors, such as intellectual capital, human capital, brand and reputation, and relationships with regulatory bodies, non-governmental organizations, customers, suppliers and other external stakeholders. Therefore, sustainability issues that may have an impact on these intangible areas pose a significant risk for the value of a company.
Material matters are broadly defined, as per GRI guidelines, as issues that have impact on an organization's ability to create, preserve or erode economic, environmental and social value for itself, its stakeholders and society at large. Investors are increasingly looking for evidence that their portfolio companies are focused on the material ESG issues that matter to financial performance and a well-defined commitment to sustainability.
Best-in-class companies use materiality analysis to gather insight on the relative importance of environmental, social, and governance issues and prioritize sustainability efforts around where they can have the greatest impact.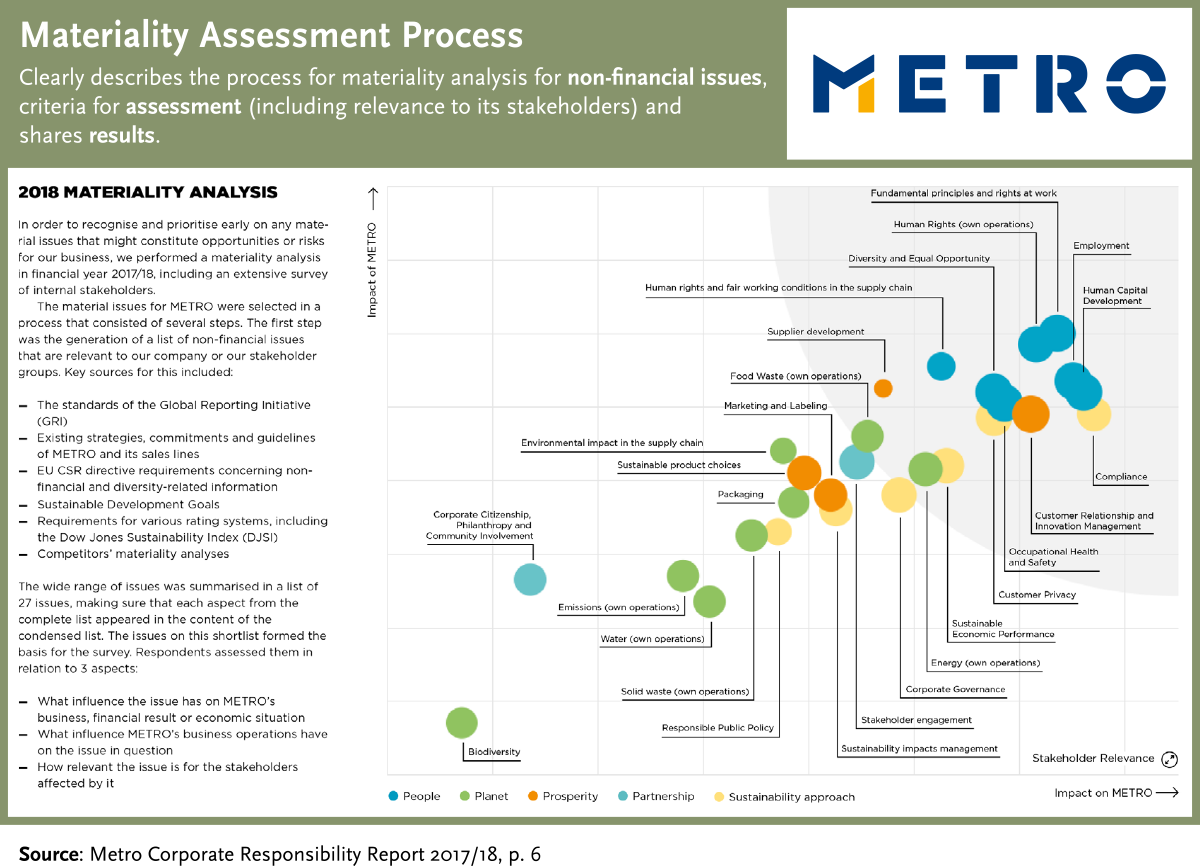 In its Sustainability Report, Metro clearly describes the process for materiality analysis (generating a comprehensive list of non-financial issues that are relevant to the company or its stakeholders). The criteria for materiality assessment (company's influence on issue, issue importance for company, and issue importance for stakeholder group) is comprehensive. A chart is presented summarizing results.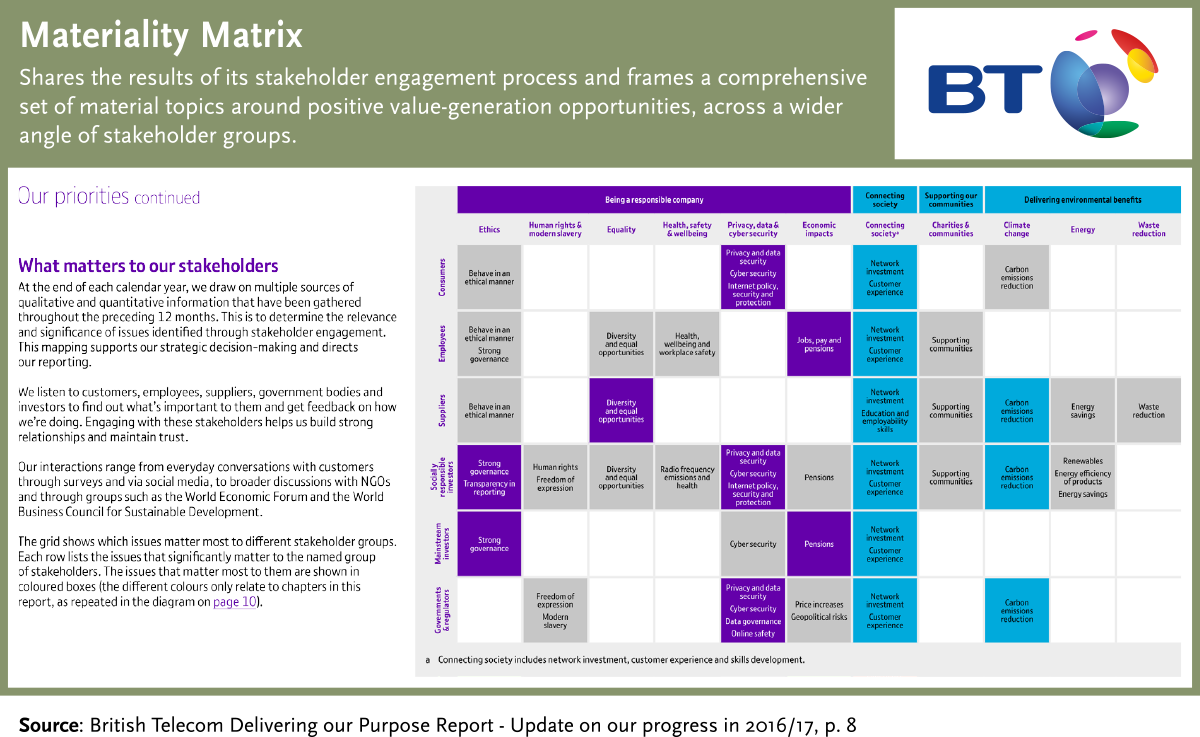 In its materiality matrix, British Telekom shares the results of its stakeholder engagement process and frames a comprehensive set of material topics around positive value-generation opportunities (being a responsible company, connecting society, supporting communities and delivering environmental benefits). Engagement covers a wide range of stakeholder groups and uses multiple sources of qualitative and quantitative for assessment of materiality.
Materiality analysis not only allows the company to prioritize their sustainability efforts by considering the ESG issues most related to its business, but also to inform sustainability reporting and communication with stakeholders.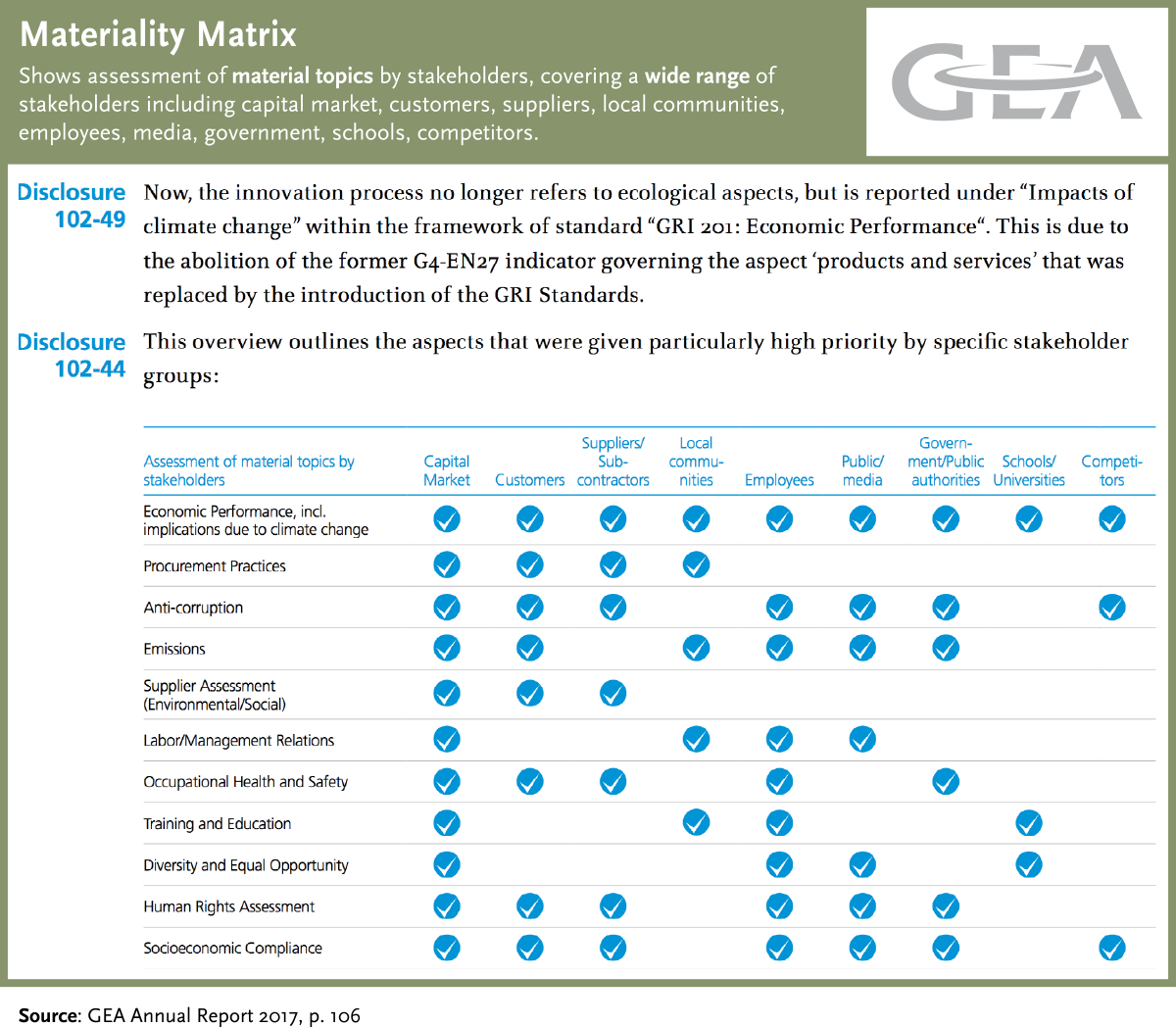 Gea Group shows assessment of material topics by stakeholders, covering a wide range of stakeholders including capital market, customers, suppliers, local communities, employees, media, government, schools, competitors This can serve as the basis of deciding which areas to focus on, as well as provide a framework for managing communication with different stakeholder groups.
Issues material to performance constantly evolve, so ongoing analysis and dialogue with stakeholders is essential for companies to focus of their sustainability efforts on what matters for their performance and their stakeholders in the short and long term horizon.
Link to SDGs
The Sustainable Development Goals (SDGs) define global sustainable development priorities and aspirations for 2030 and seek to mobilize global efforts around a common set of goals and targets. The SDGs present an opportunity for business-led solutions and technologies to be developed and implemented to address the challenges. As the SDGs form the global agenda for the development of our societies, they will allow leading companies to demonstrate how their business helps to advance sustainable development, both by minimizing negative impacts and maximizing positive impacts on people and the planet.
The SDGs can help to connect business strategies with global priorities, and leadership is required from GSLs to drive action.
Currently, even among GSLs, only 65% of companies in our sample link their strategy to SDGs.
Responsible boards need to actively engage in embedding SDGs responsibilities to their corporations' business strategies to create sustainable value for all stakeholders, realize benefits for their shareholders, and be a leading institution for a sustainable world. Companies can use the SDGs as an overarching framework to shape, steer, communicate and report their strategies, goals and activities, allowing them to capitalize benefits and create value.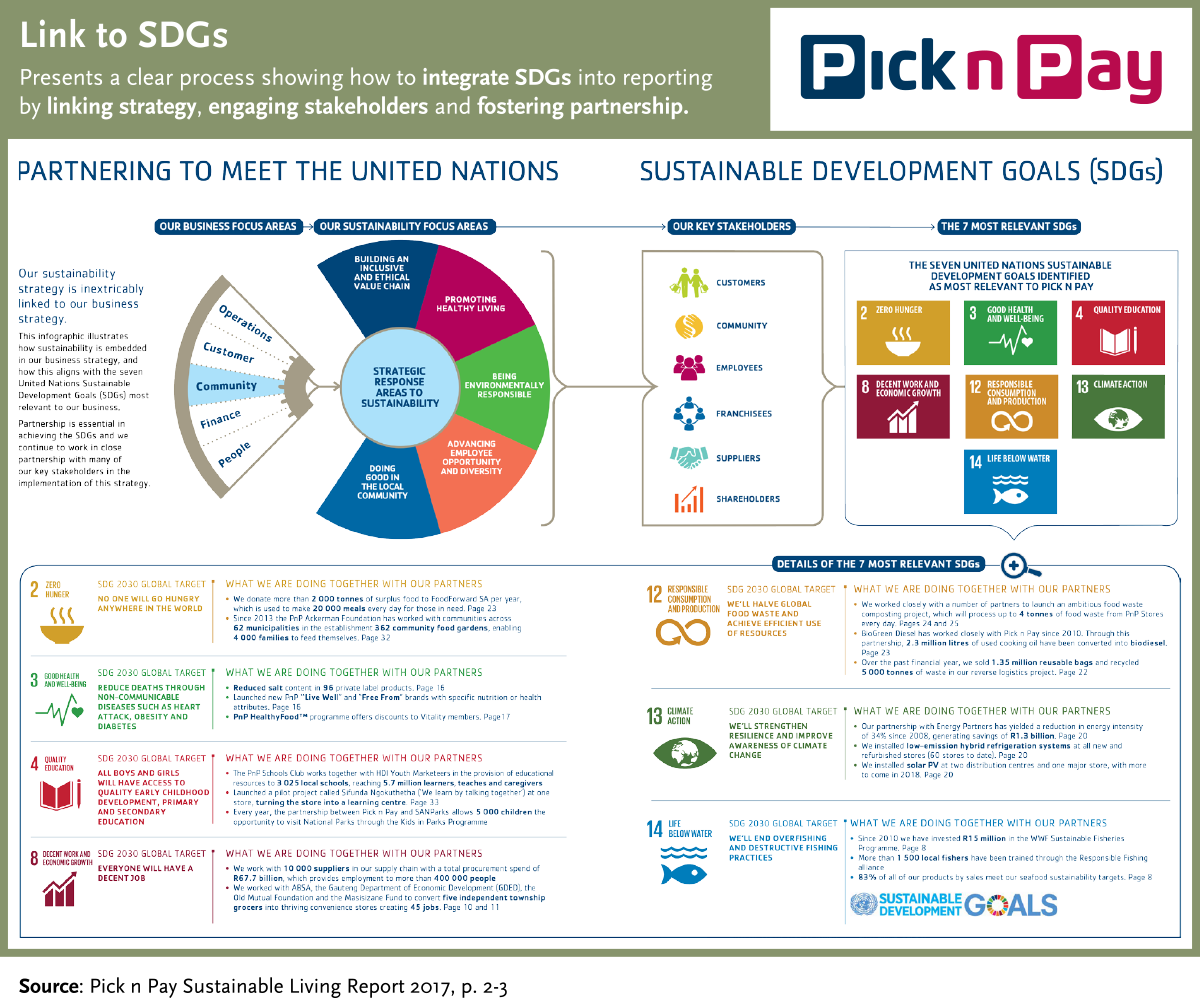 Pick n Pay presents a clear process showing how to integrate SDGs into reporting by linking strategy, engaging stakeholders and fostering partnership. The infographic illustrates how sustainability is embedded in the business strategy and how this aligns with the SDGs most relevant to business. Detailed outcomes are presented for each SDG and links provided to access more detailed information on each. Partnership is essential in achieving the SDGs and the company works in close partnership with many of the key stakeholders in implementation of this strategy.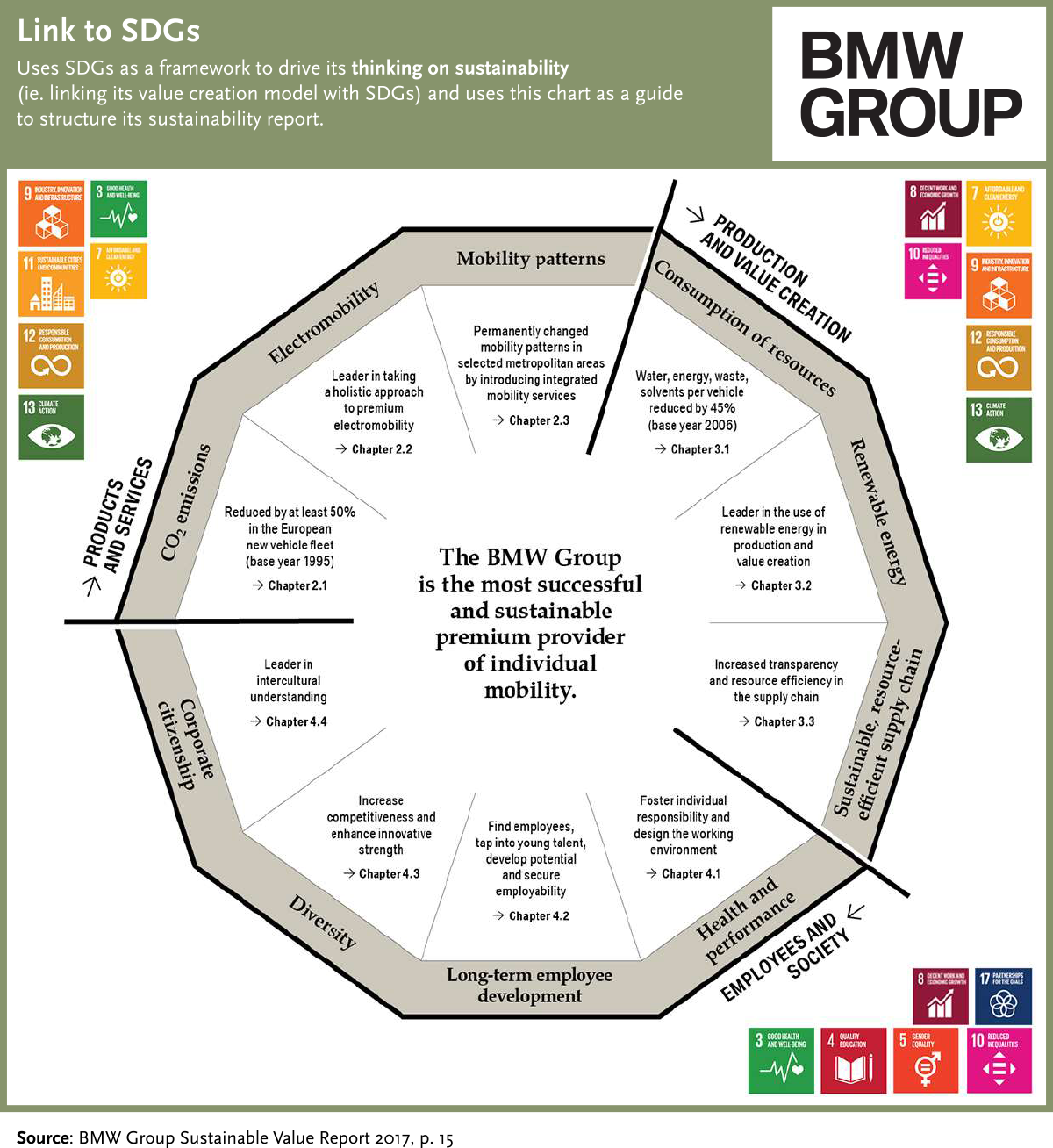 BMW uses SDGs as a framework to drive its thinking on sustainability and uses this chart as a guide to structure its sustainability report. The chart links the value creation model to SDGs prioritized based on materiality matrix on areas in which BMW can have the greatest potential impact. For "mobility patterns" BMW mentions "they permanently changed mobility patterns in selected metropolitan areas". This implies a long-term sustainable value creation which is a crucial criteria we are looking for a good example company. Sustainability targets cover areas from products and services, production and value creation to employees and society. Outcomes are either included in the chart or page numbers have been indicated for details.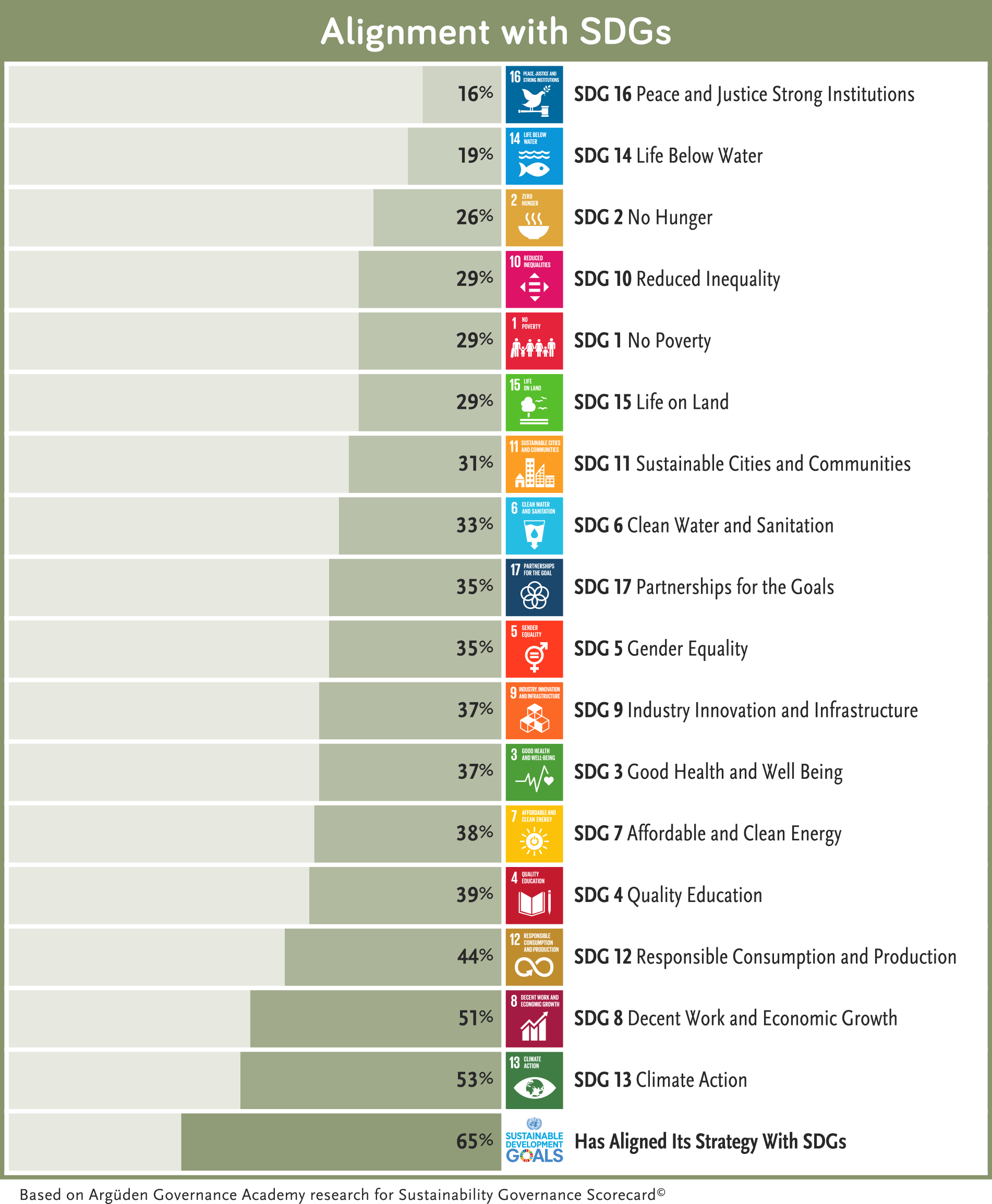 We find that engagement of GSLs with SDG16: Peace and Justice Strong Institutions is 16%.
As part of our research, we also evaluated the link reported by GSLs between strategy and specific SDGs. Our findings reveal that companies tend to prioritize SDGs that align with their core business model, rather than taking an all-encompassing approach to creating the right climate and environment for sustainable development. These are two areas that will require multi-stakeholder and long-term systematic approaches for a better future; and GSLs have a role to play.
To build the world we want in the future requires changes in the global incentive system (i.e. carbon pricing, anti-corruption). For this system change, Global Sustainability Leaders need to take leadership. Adopting a long-term horizon, these SDGs have significant impact on the environment and social structure in which business will operate in the future. Furthermore, the complexity of the nature of these SDGs require mobilizing resources for a common goal. GSLs can lead the way in establishing this link and serving as role-models for other businesses to follow and spark collective action.
We find that GSLs have embraced the global climate change agenda and that SDG engagement is higher for SDGs that are actionable within their business models.
Increased action and partnership are required around creating the right climate for sustainability through institution-building and preserving the basis of our life on this planet by protecting oceans.
Target-Setting / Commitment
Our research shows that Global Sustainability Leaders have successfully integrated policy, KPI's, and results coverage to include environmental, social and governance issues.
However, only 69%, 70%, 53% of the companies in our sample set targets for ESG respectively.
To increase accountability, disclosure is required on how non-financial metrics are established and managed.

Investors look to companies to identify the ESG factors that are important to helping them achieve their strategic objectives and to set targets that will be relevant over that time horizon. To move forward, companies can strengthen their commitment to sustainability by setting targets for environmental, social and governance-related outcomes and tracking performance against key metrics.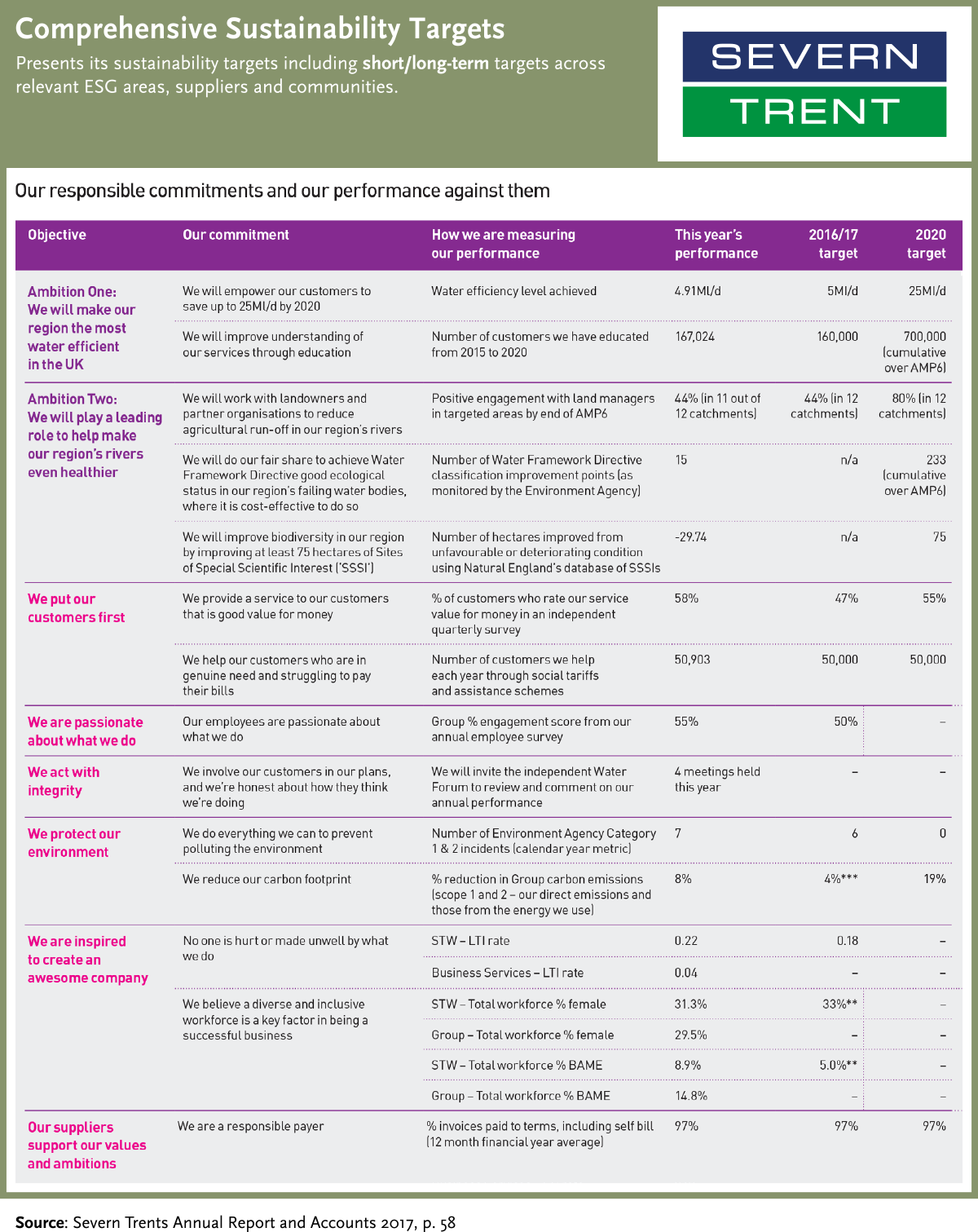 Severn Trent presents its sustainability targets in a comprehensive chart that can be analyzed from several dimensions. Targets include short and long-term targets on relevant ESG areas, suppliers as well as community-level targets.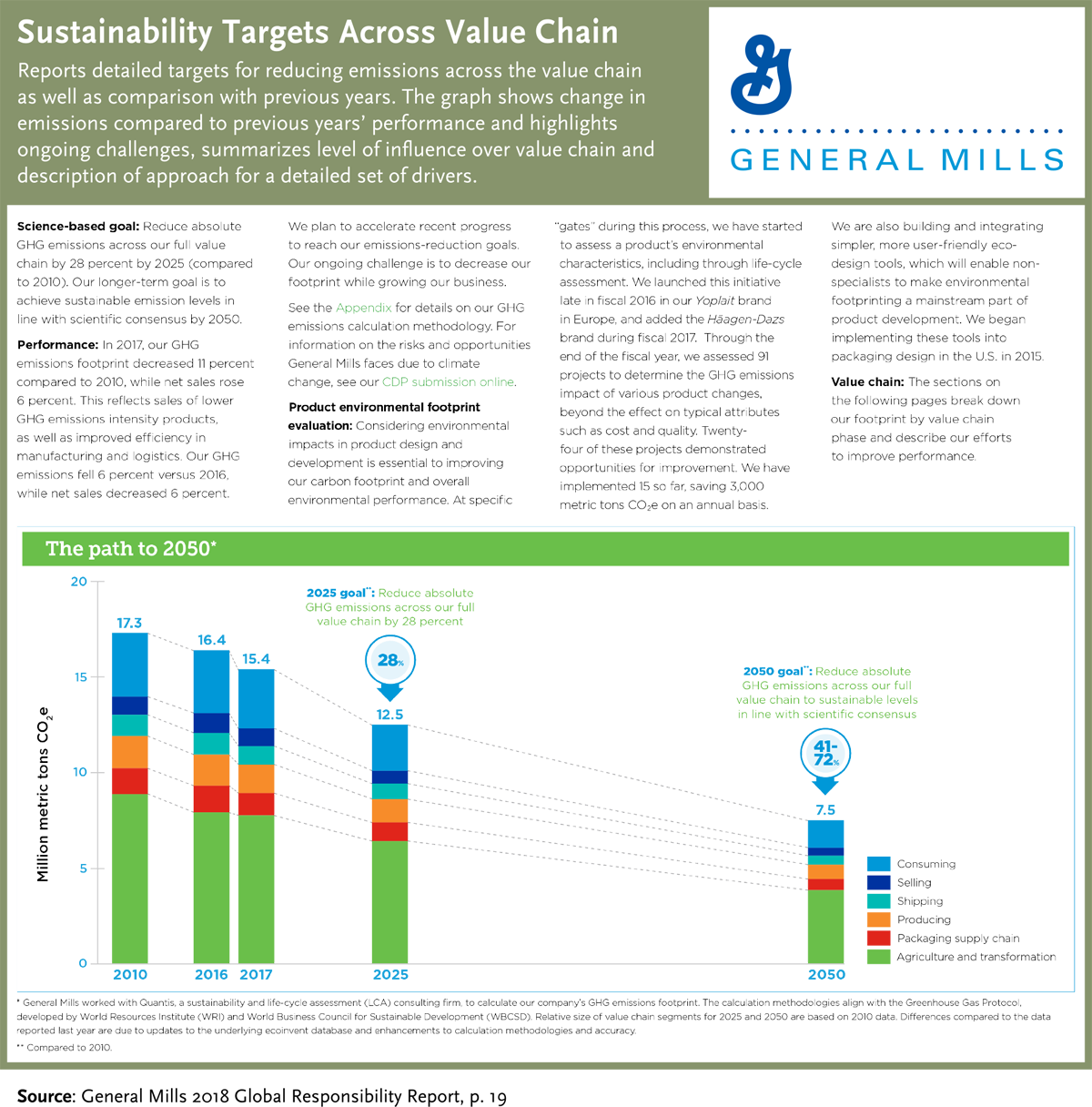 General Mills reports detailed targets for reducing emissions across the value chain. The company has set both a mid-term science-based goal (reduce absolute GHG emissions by 28 percent by 2025), and long-term targets to achieve sustainable emission levels by 2050. The graph shows change in emissions compared to previous years' performance and highlights ongoing challenges, summarizes level of influence over value chain and description of approach for a detailed set of drivers.
Executive Compensation
In order to focus management behavior on capturing opportunities from sustainability and ensure that sustainability practices are adopted as everyday practice in decision making, Boards need to make management explicitly accountable for the company's environmental and social impact. By aligning executive compensation with strategic sustainability targets and tying performance payouts to non-financial sustainability metrics, Boards can sharpen management's focus on sustainability issues.
Results show that existing remuneration plans for executives are not aligned with sustainability goals.
We find that 100% of GSLs share executive compensation, 87% linked it to financial targets, 55% linked to non-financial targets, and only 15% linked to sustainability targets.
Without this link, it is unlikely that sustainability will receive the attention and priority that it deserves.

Companies leading this change identify appropriate ESG metrics, link these metrics to executive compensation and provide disclosure on such practices. By limiting the number of sustainability goals in its incentives, companies can wield huge power to change leaders' behavior.
Sasol is one good example of a company that clearly links its performance scorecard to strategic objectives and has designed a remuneration policy that focuses on enabling the delivery of the Group's strategy in a safe, reliable and sustainable manner by linking incentives to sustainability KPIs covering sustainability, greenhouse gas emissions and broad-based black economic empowerment. Furthermore, the chart demonstrates the adoption of a learning mindset by showing trends, past performance and targets.
Targets are broken down into several categories including threshold, target and stretch target as well as providing an assessment of achievement. The targets can vary based on the company's specific context. What matters is that non-financial metrics are aligned with strategy and are relevant, measurable, comparable and sufficiently challenging. In order to drive management performance, payouts should be conditional on financial and nonfinancial performance.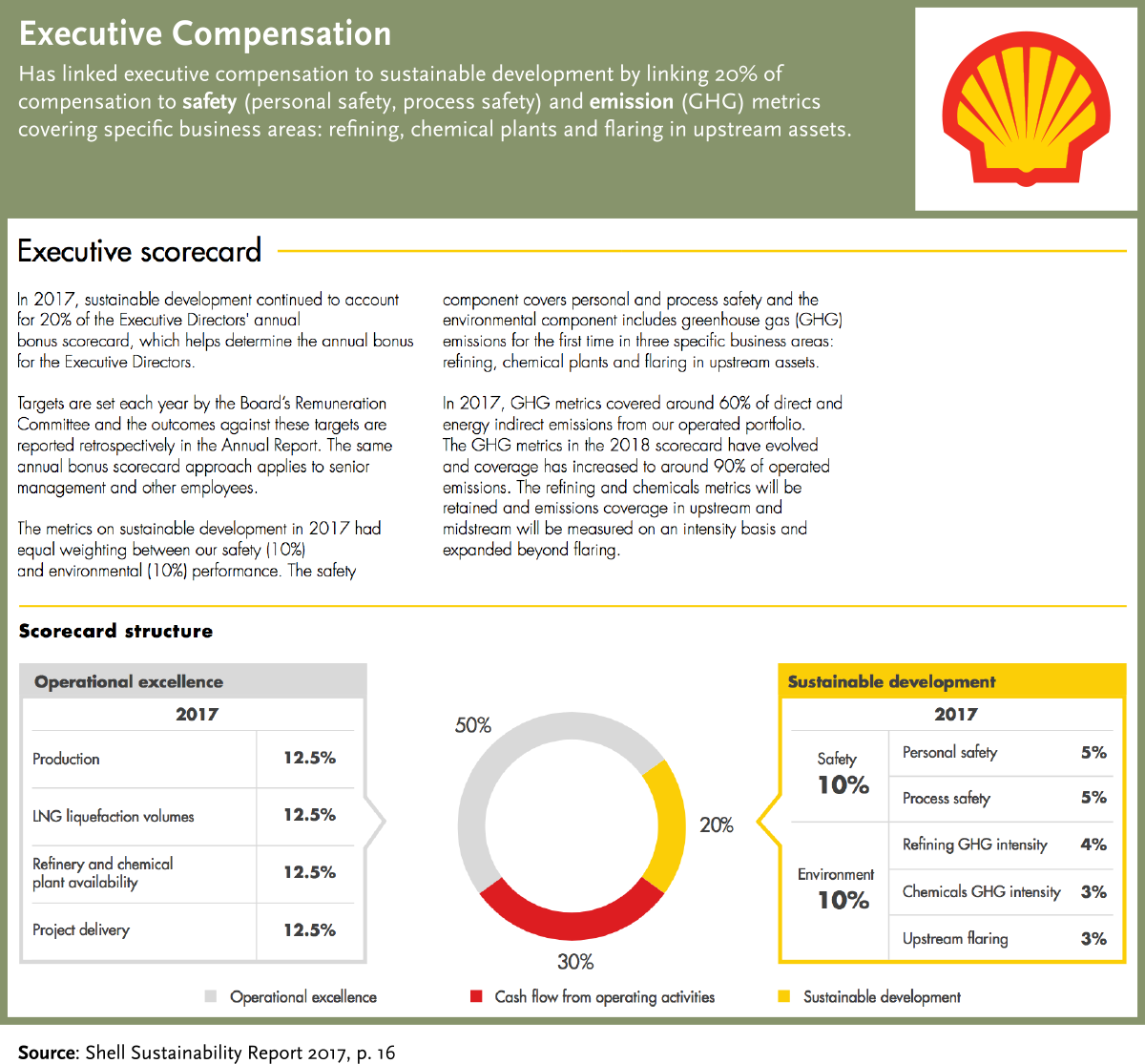 For example, Shell has linked executive compensation to sustainable development by linking 20% of compensation to safety (personal safety, process safety) and emission (GHG) metrics covering specific business areas: refining, chemical plants and flaring in upstream assets. The report also describes the current and target operations coverage ratio across supply chain. (GHG metrics covered around 60% of direct and energy indirect emissions from our operated portfolio, metrics for next year's scorecard evolved and coverage has increased around 90% of operated emissions). This information is presented in an easy-to-read chart that shows the different components of the executive incentive structure.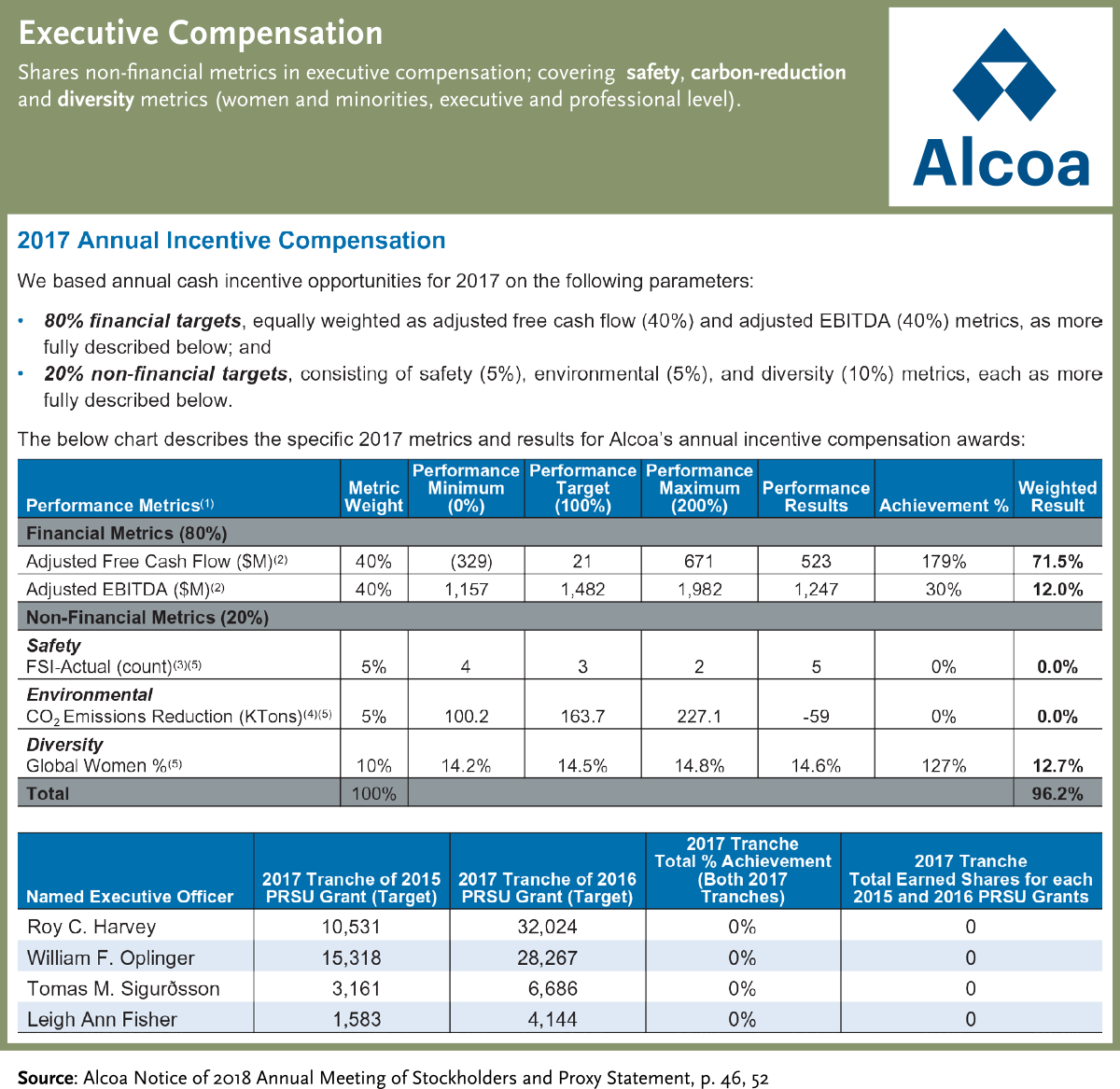 Alcoa is a good example of breadth of non-financial metrics in executive compensation; covering safety, carbon-reduction and diversity metrics (women and minorities, executive and professional level). It is easy to read and in one chart you can get financial, non-financial metrics, weight, target and evaluation. TSR is used as benchmark.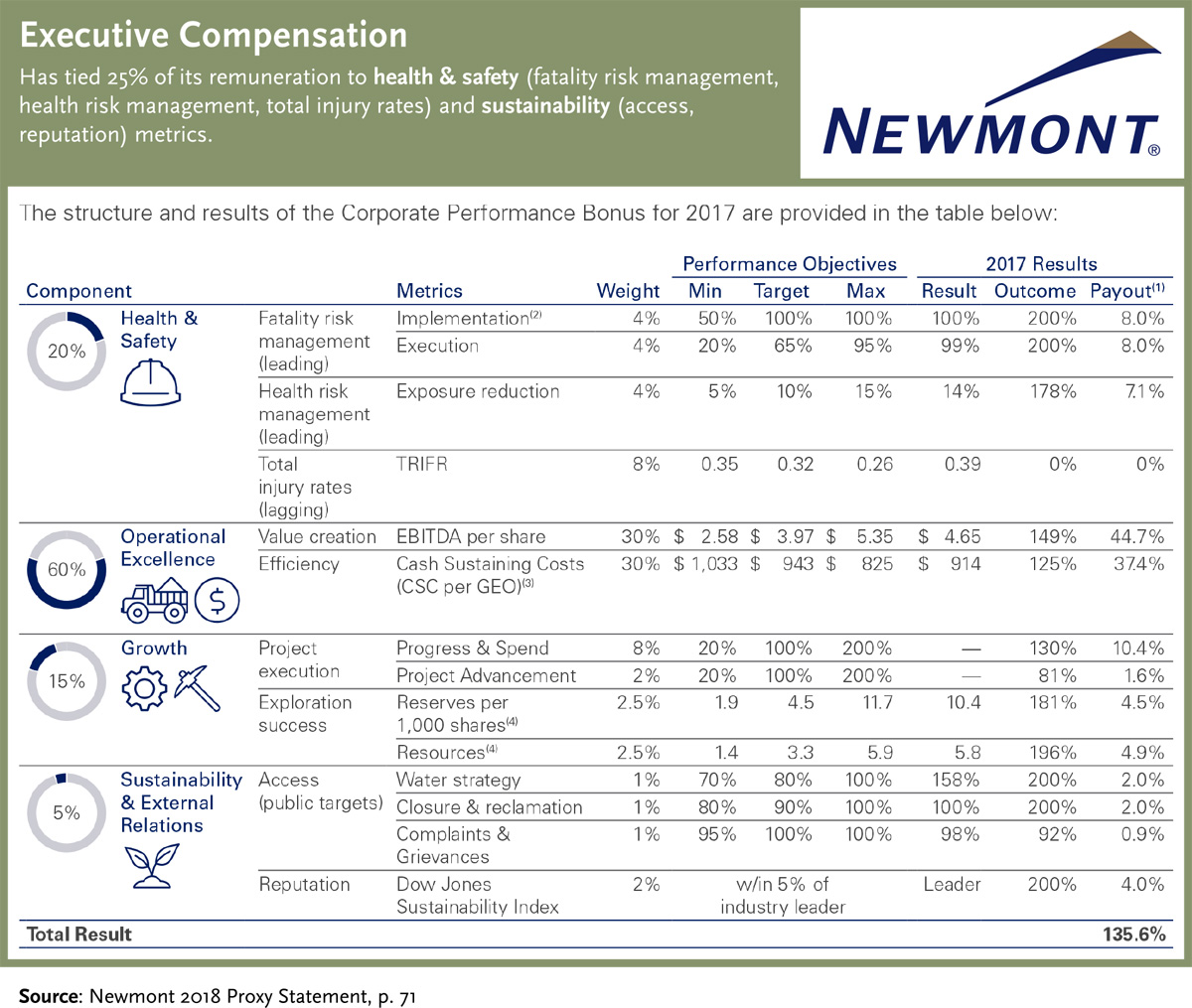 Another good example of breadth in setting non-financial metrics is Newmont, has tied 25% of its remuneration to health & safety and sustainability metrics. Its health & safety metrics cover fatality risk management (implementation and execution), health risk management (exposure reduction) and total injury rates. For sustainability, Newmont focuses on metrics that are core to its value proposition (access) and reputation (leader in sustainability).
Gizem Argüden, Kübra Koldemir, Çağhan Karanberk