Learning
Integrating sustainability into the organization's processes and culture requires a continuous learning climate. Having created the opportunity to learn by analyzing and evaluating results from the oversight process, lessons learned need to be utilized to improve-decision making processes. Skills gaps and required mindset changes need to be addressed through trainings and sustainability practices need to be integrated into the company's culture.
Therefore, the board needs to take action to ensure that the sustainability agenda of the corporation is an integral part of its culture and systems to assure learning and continuous improvement. For this purpose, the key sustainability issues need to be identified and incorporated into strategies, policies, objectives, and associated management systems with a particular view towards value creation opportunities.
To assess whether the learning culture is sustained throughout the cycle, we seek any evidence of learning and improvements in performance of sustainability efforts. Examples of such evidence to reach targets through actions to implement lesson learned are:
Organizational development (incorporating lessons learned into orientation, education, promotion, compensation processes);
Training programs to address skill-gap (e.g. compliance, unconscious bias),
Changes in incentive mechanisms;
Resource allocation for improvement;
Mobilizing collective action in areas where the company's resources would fall short (esp. with respect to SDGs)
Improving stakeholder engagement.
Skills Development
The complexity of managing sustainability calls for corporations to implement their sustainability agenda through a continuous learning process. Such a process needs to involve all stakeholders, in order to integrate sustainability into the culture of the organization. Only when all stakeholders are acting together in an eco- system can goals such as human rights, non-discrimination, environmental or product stewardship be truly achieved. For example, it is not sufficient to have the correct way of sourcing, unless you make sure your suppliers adopt the same standards of responsibility. This might require expanding training programs across the supply chain and/or customers.
Therefore, we also evaluate whether coverage of the improvement initiatives encompass all relevant stakeholders including all levels of the organization, supply chain, geographies and even customers. We find that best-in-class companies ensure coverage of learning initiatives across related sustainability areas (e.g. compliance, unconscious bias, etc.) and relevant stakeholders (including supply chain and customers), and establish a learning loop for continuous improvement by disclosing remedial action to address gaps. Below, we present several examples: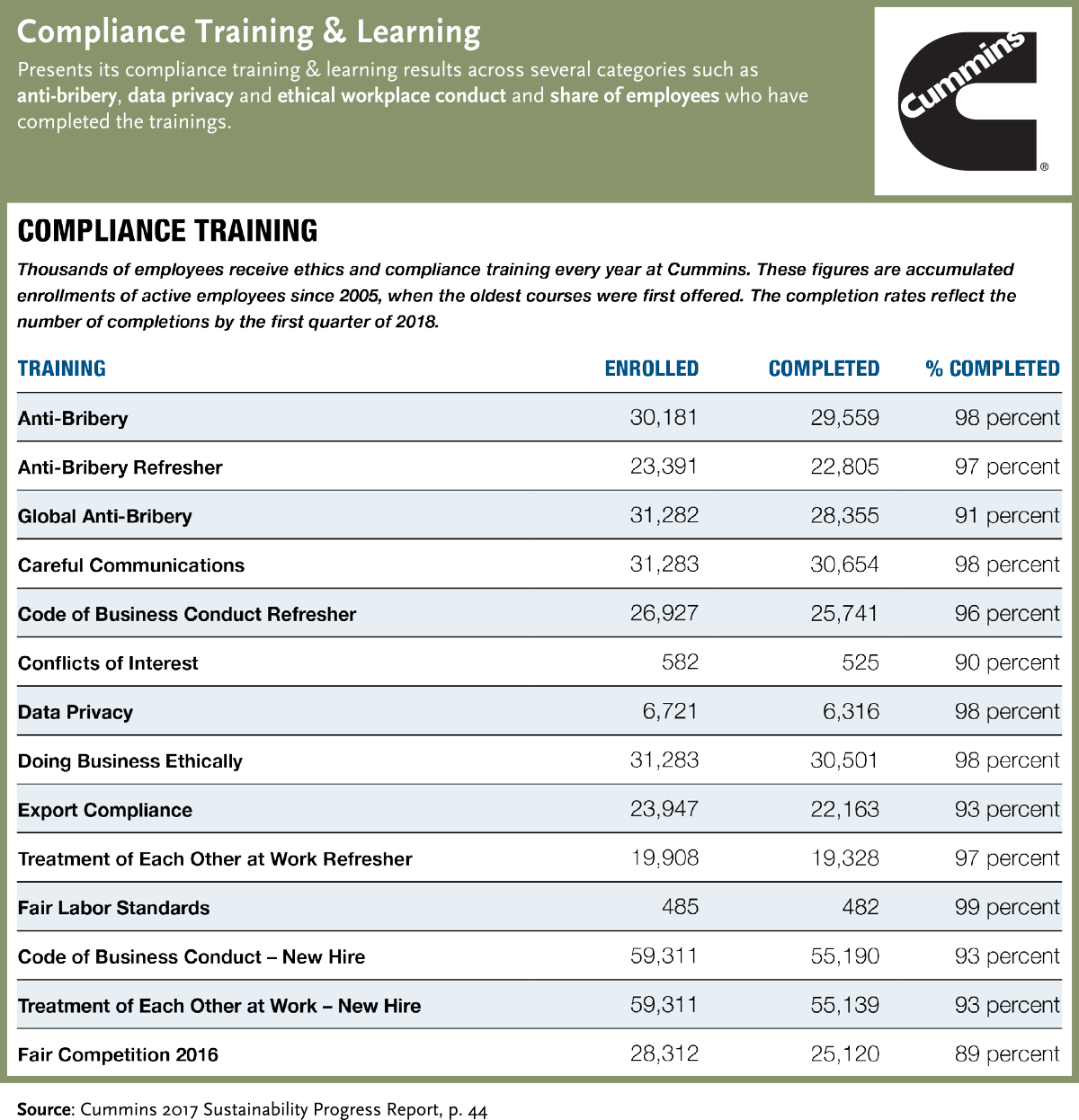 Cummins presents its compliance training & learning results across several categories such as anti- bribery, data privacy and ethical workplace conduct. The chart shows how many employees have been enrolled for each sub-section and presents an assessment of progress in absolute and percentage terms. The report also mentions that Cummins has aligned its compliance strategy with SDG's and incorporated its training strategy to its long-term sustainability goals.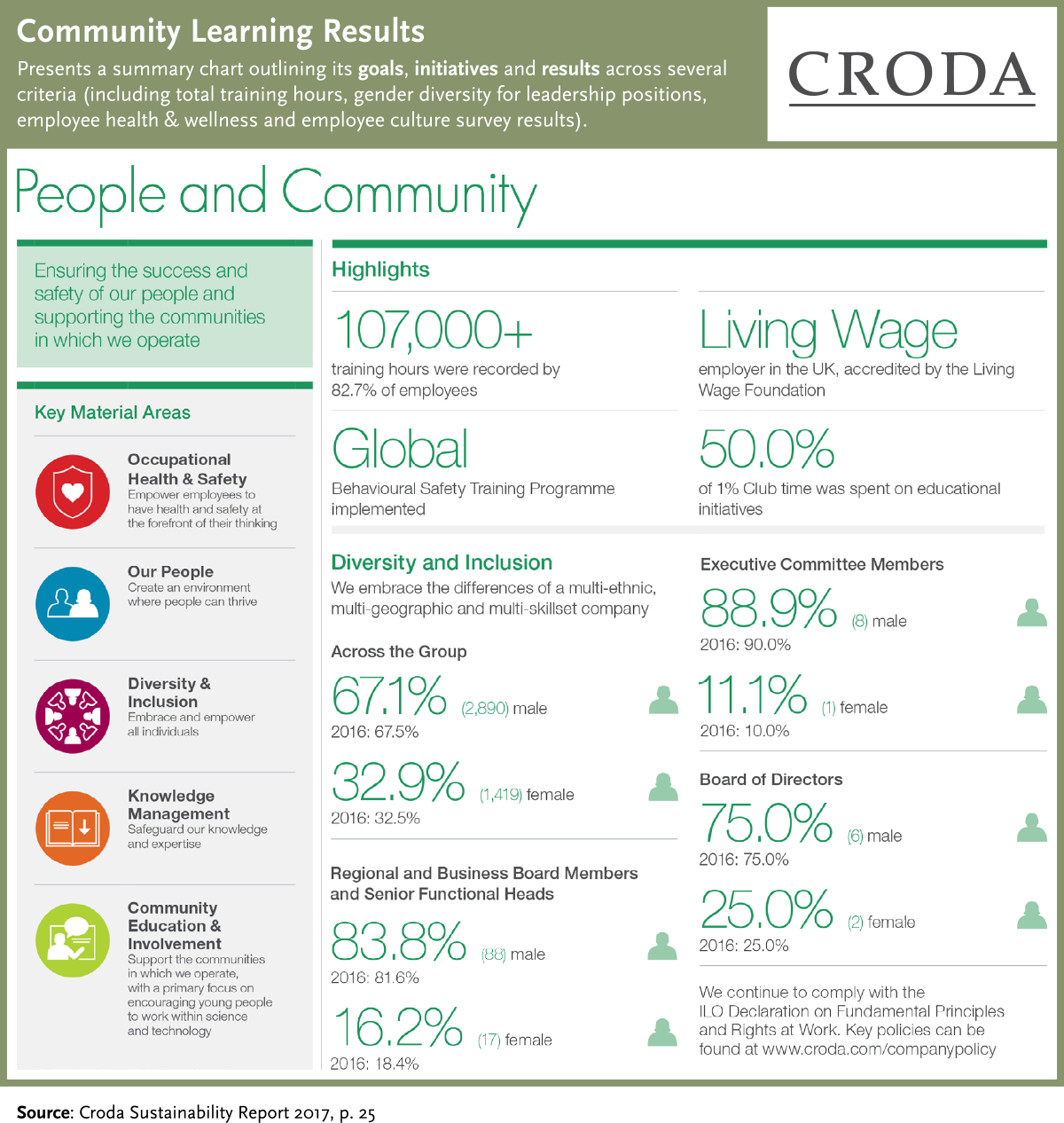 For example, Croda presents a summary chart outlining its goals, initiatives and results for "ensuring the success and safety of its people and supporting the communities in which it operates". The chart shows actions taken towards commitments (rolling out a behavioral safety training program), showing that the company has recognized behavioral change as an important factor in achieving its health & safety commitments. The chart presents data on a variety of metrics, including total training hours, gender diversity for leadership positions (and remedial action taken), health and wellness of employees and a Global Employee Culture Survey they conduct on a yearly basis. Results for the previous year and percentage change in outcomes is also presented for easy comparison. The chart also builds a connection to long term sustainability goals by showing evidence on integration of human resources goals into their long- term SDG strategy.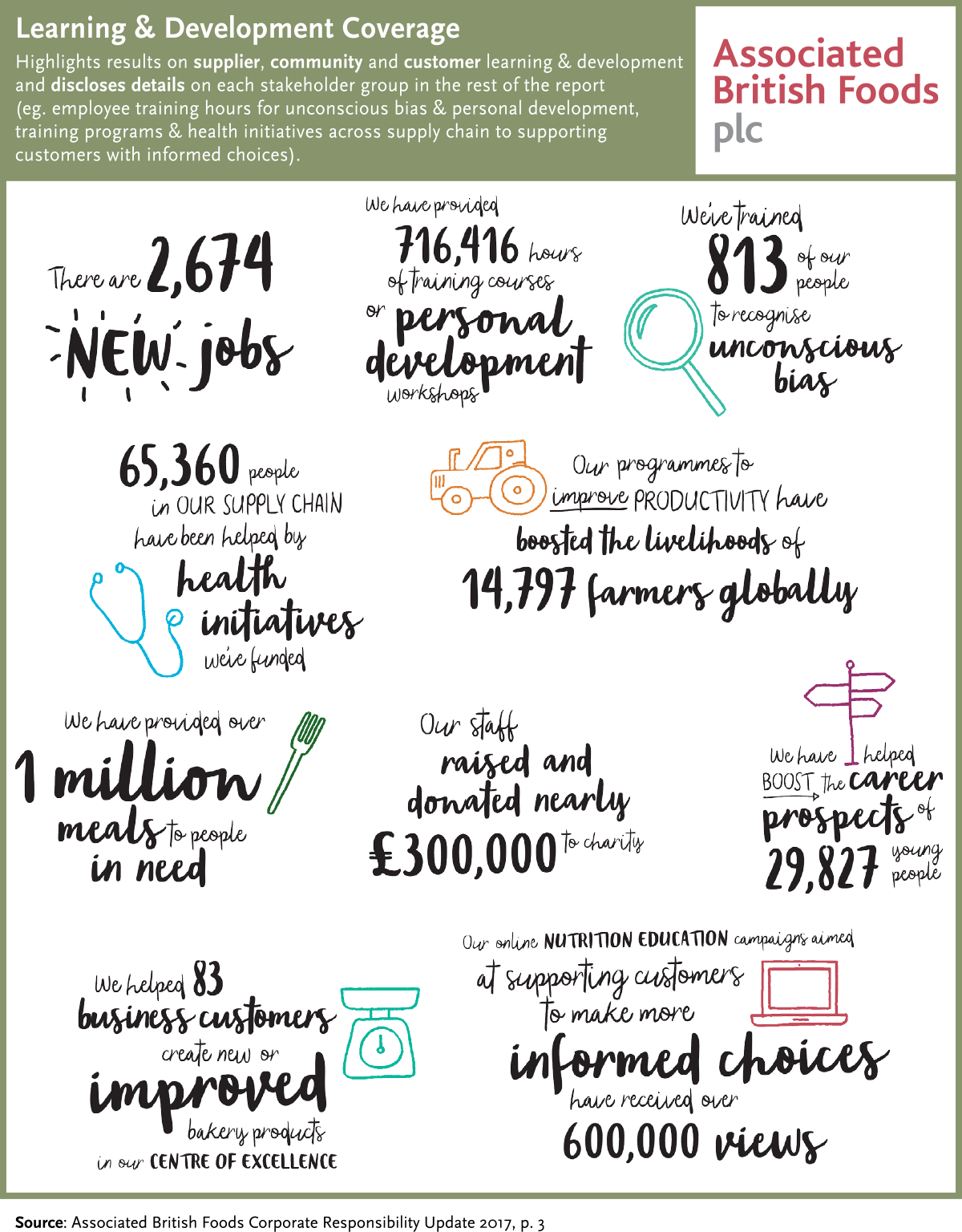 Associated British Foods highlights actual results on supplier, community and customer learning & development in one page at the beginning of the sustainability report before company gets into full details on each value chain stakeholder covering all ESG factors in a comprehensive way in the actual report. This includes employee training hours for unconscious bias & personal development, training programs & health initiatives across supply chain to supporting customers with informed choices.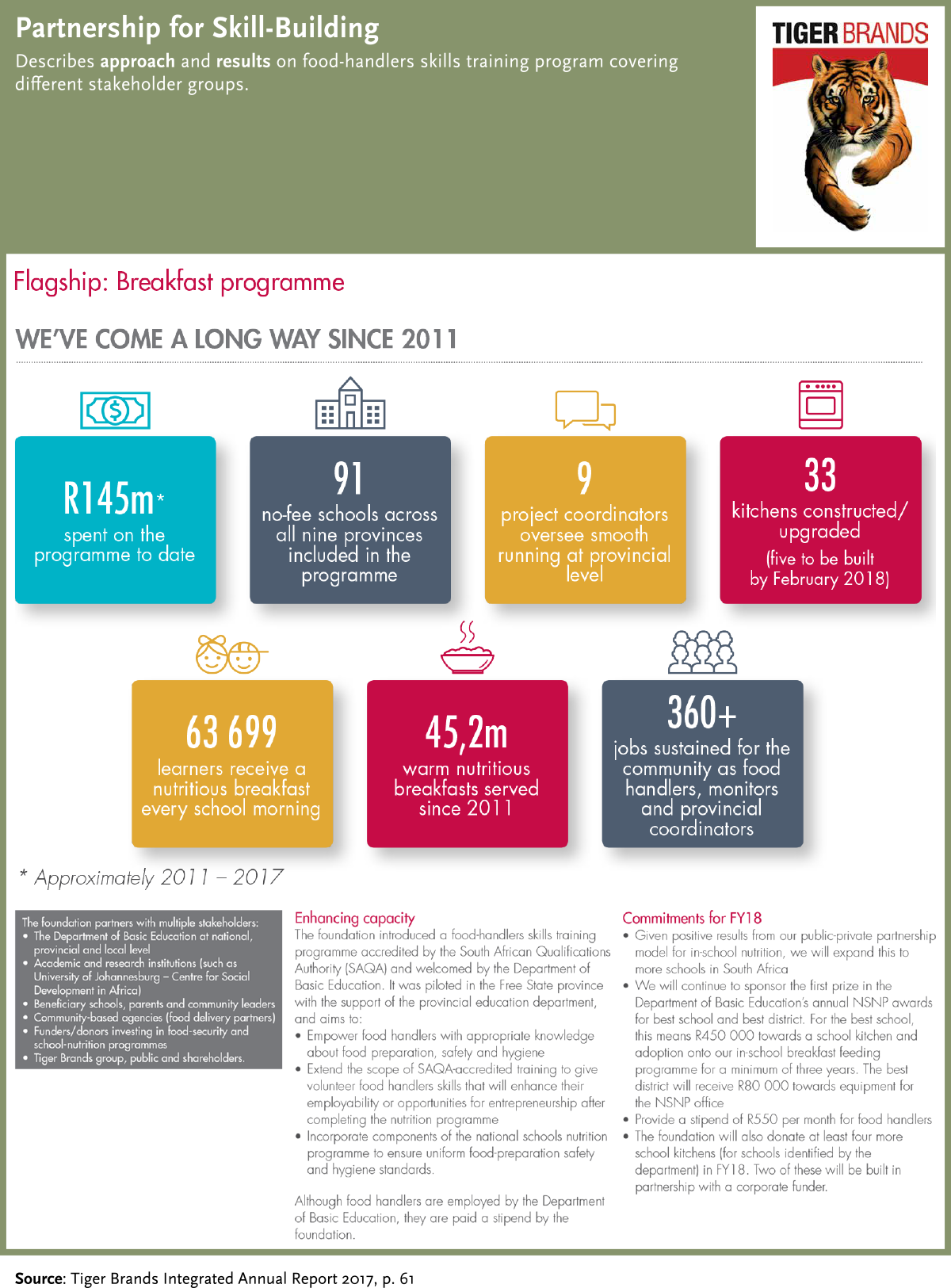 Tiger Brands describes a food-handlers skills training program it helped introduce in 2011 accredited by the South African Qualifications Authority (SAQA) and welcomed by the Department of Basic Education. It provides the results regarding progress since 2011 and regarding impact on schools and on communities. This chart does not omit to state the names of various stakeholders that have been engaged for the accomplishment of the program.
Deployment
Achieving sustainability goals require mobilizing the workforce and ensuring a continuous learning mindset is embedded in the company's processes. A successful deployment program requires:
establishing framework for effective communication and learning for the employees and the members of the supply chain;
incorporating sustainability issues into hiring and remuneration policies as well as supplier identification processes (having appropriate incentive systems);
establishing clear guidelines and remedies for those who fail to follow the corporation's sustainability standards;
and making sure that the management information systems provide for adequate, appropriate, and verifiable data on key sustainability priorities.
Awareness of and responsibility for sustainability cannot be delegated to one segment of the organization. It must be firmly established at the top and inculcated throughout all levels and aspects of the company. And then it needs to be practiced as an integral part of doing business. Internal control systems, external reviews, and stakeholder engagement processes. Compliance requirements should all be utilized for continuous learning opportunities, rather than as tick the box compliance requirements.
Gizem Argüden, Kübra Koldemir, Çağhan Karanberk