Oversight
Oversight is critical for successful implementation by creating an opportunity to learn from experiences. In this section, we assess disclosed information to see if the board reviews and decides on risk appetite and monitor the implementation throughout the organization; ensure that internal control mechanisms are regularly reviewed, risks are monitored; and third- party verification is available upon board request. We assess whether there is a board evaluation process and results are disclosed, whether there is sufficient board oversight on sustainability issues to ensure implementation, whether internal and independent audit covers ESG issues, supply chain, and geographies, whether trends and benchmarks are disclosed and impact analysis is conducted to identify areas for improvement.
The board's oversight role requires setting up an effective internal control mechanism, ensuring independence of audit and strict compliance, monitoring ethics and business conduct within the company and its value chain, and transparency in external reporting and disclosure. Effective tracking of sustainability performance and communication to the board is essential for improving oversight of sustainability.
Board Oversight
To provide oversight over material sustainability issues, boards should clearly define their sustainability responsibilities through a 'Sustainability Charter.' The Charter should clearly specify the scope of the board's oversight of sustainability issues; specifically reference the company's priority sustainability issues; make the linkages with the business strategies and priorities; and provide a framework for the integration with the company's risk management systems.
The scope of sustainability issues that need to be covered should include a comprehensive set of subjects such as safety, health, environmental, and community impact; human rights, labor rights, anti-corruption and business ethics. Another key issue to consider is the standards of conduct and level of implementation in all the jurisdictions that the company operates in. OECD's MNEs Guidelines particularly focus on this issue.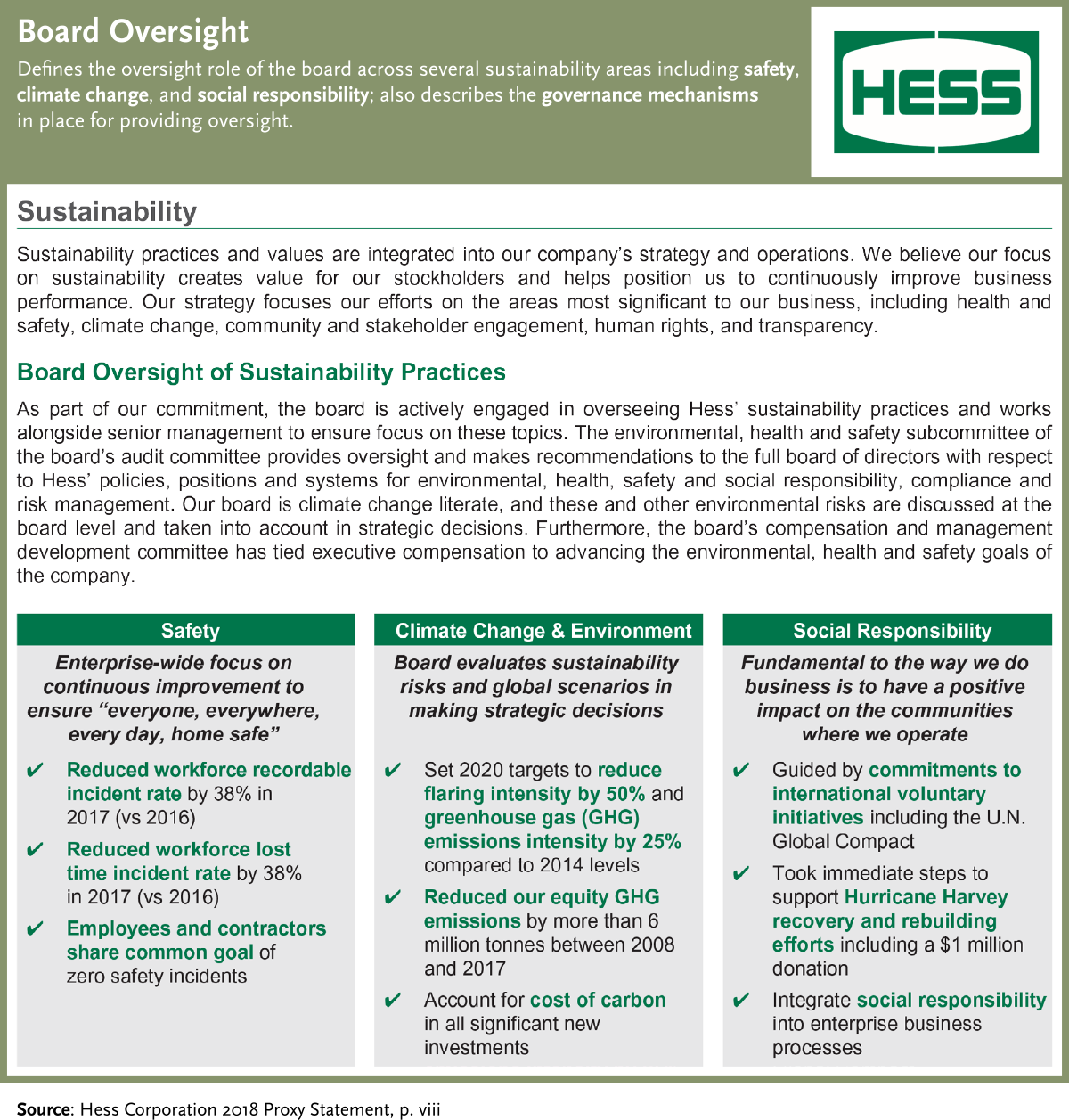 Hess Corporation clearly mentions that sustainability practices are integrated into its value proposition and defines the oversight role of the board across several sustainability areas including safety, climate change, and social responsibility. The chart describes the governance mechanisms in place (i.e. Environmental, Health and Safety Sub-Committee of the Board's Audit Committee) and describes the scope of responsibility the Board has over sustainability issues.
The boards also need to provide sufficient oversight to the management's identification of risks and opportunities of sustainability issues, including those related to strategy, regulatory and legal liability, product development and pricing, disclosure and reputation, as well as the management's action plans. In doing so, the boards' unfettered access to outside experts should be assured.
Generally, financial information is more readily available and presented in detail. However, other key information such as information about the level of intellectual capital and reputation of the corporation, and supplier, customer, employee, and community satisfaction surveys are also required for quality decision making. Generally, these types of information may have a greater relevance for the future value of the corporation and for the board members to fulfill their stewardship roles.
The boards also need to ensure that the internal control and monitoring systems provide sufficient attention to sustainability issues, compliance and timeliness and adequacy of external reporting. Obviously, all these activities take time and therefore the boards need to allocate sufficient time and resources to deal with sustainability risks and management plans to address them. The time allocation should consider the breadth and immediacy of key sustainability issues that need to be addressed. GSL's tend to establish separate board committees to provide sufficient attention to sustainability matters and to bring the key issues to the full board.
Audit
In order to exercise their oversight responsibilities, the boards should receive findings and recommendations from any investigation or audit by internal audit department, external auditors, regulatory agencies, corporation's insurance companies, or third-party consultants concerning the corporation's sustainability matters on a timely basis.
Internal audit should focus to both financial and process related issues to improve implementation and play an advisory role. Internal audit function must have direct access to the board. Audit Committee charter should cover compliance and sustainability related issues.
Independent audit coverage is still not widespread, even among GSLs. In order to provide effective oversight over sustainability issues; the Board must ensure that independent third-party reviews cover environmental, social, and governance issues.
We find that all GSL have an independent audit for financial results, but independent audit coverage for environmental, social, and governance issues are 72%, 59%,56% respectively.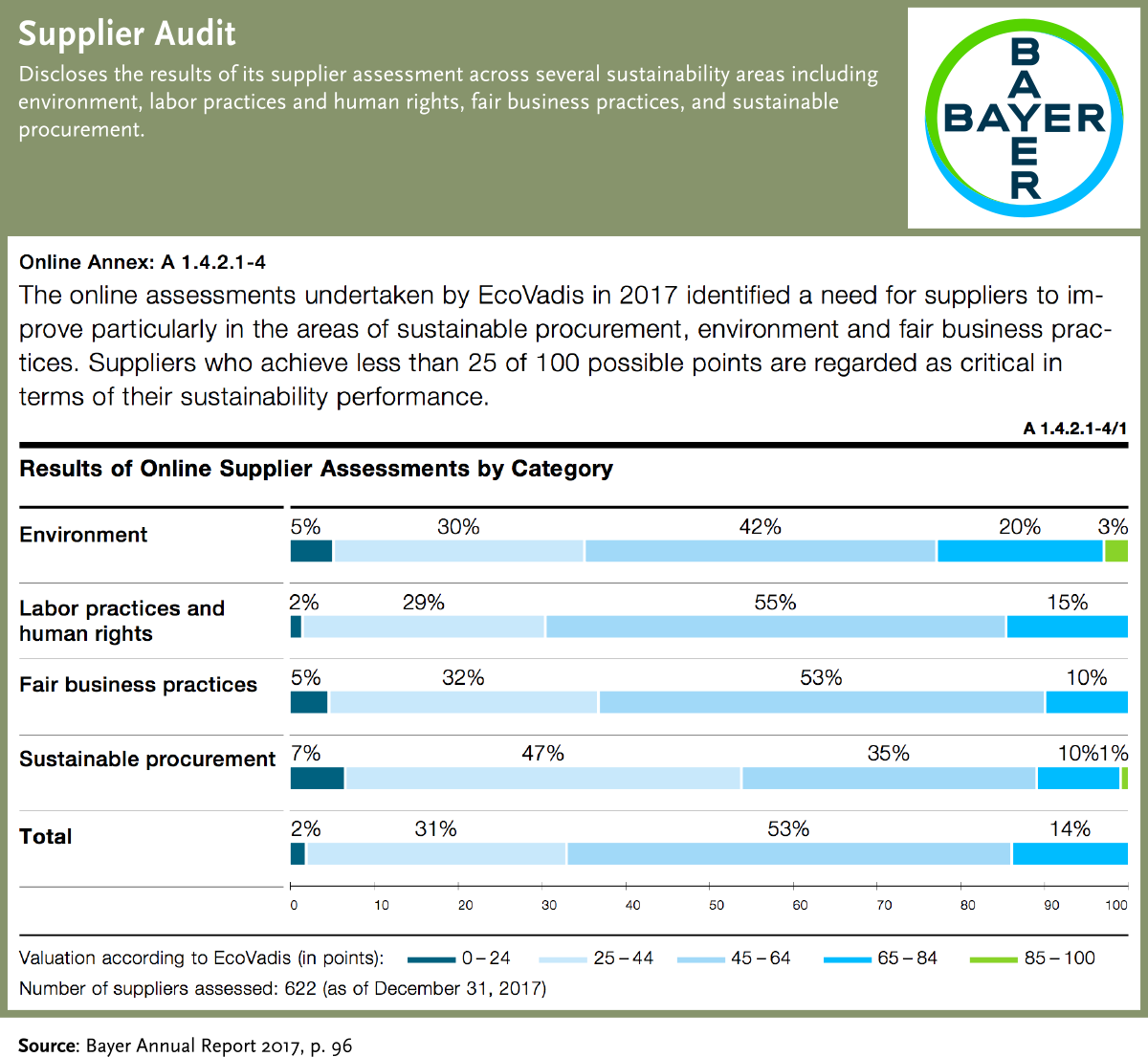 For example, Bayer discloses the results of its supplier assessment across several sustainability areas including environment, labor practices and human rights, fair business practices, and sustainable procurement. The online assessments and on-site audits are analyzed and documented in order to define specific improvement measures in the case of unsatisfactory results. The report also mentions that in case of critical results, the suppliers are asked to rectify identified weaknesses within an appropriate period time based on specific action plans.
Independent audit of ESG performance and processes are also important for transparency purposes. One reason external assurance for sustainability issues is not widespread is because sustainability reporting covers diverse topics and quantitative as well as qualitative metrics that are difficult to measure. Furthermore, the material sustainability issues vary by sector and even by company. Consistent external assurance and disclosure for sustainability issues can enable the development of standards in sustainability reporting and provide investors with increased confidence in the quality of sustainability performance data, thereby making it useful for decision-making.
Impact Analysis
Information quality drives decision quality. Information flow to the board needs to be relevant, context based, timely, balanced, and comprehensive. Balance refers not only to the amount different dimensions of information, but also, to its detail. Relevance and context are two key elements of for board information. Putting information into context requires an ability to show the bigger picture as well as including comparative benchmarking data. Relevance of information, in turn, is related to the decision-making process. The board has to understand the issue, and the options, costs, risks, and impacts of each option for different stakeholders. Comprehensiveness refers to the different dimensions of sustainability, including social, environmental, and governance aspects. Environmental impacts may include a broad range of issues, anywhere from carbon emissions to biodiversity, from energy efficiency to water and air pollution etc.
For information to be useful, it needs to be presented within a context which should include comparisons with past performance and budget targets, lead indicators, current trends, emerging issues, emerging benchmarks, compliance with applicable laws and regulations, and the key upcoming regulations and standards.
Board Evaluation
The board deliberations should also include evaluation of the adequacy of the D&O insurance package to sufficiently protect the directors against liabilities arising from sustainability issues. Boards should institute a learning and continuous improvement process for their own operations by incorporating the recommendations of the insurers into its sustainability plans and by conducting a regular self-evaluation exercise that evaluate the board's approach and effectiveness in providing guidance and oversight on sustainability issues. Many companies utilize independent third-party experts to help conduct a comprehensive and objective self-evaluation process.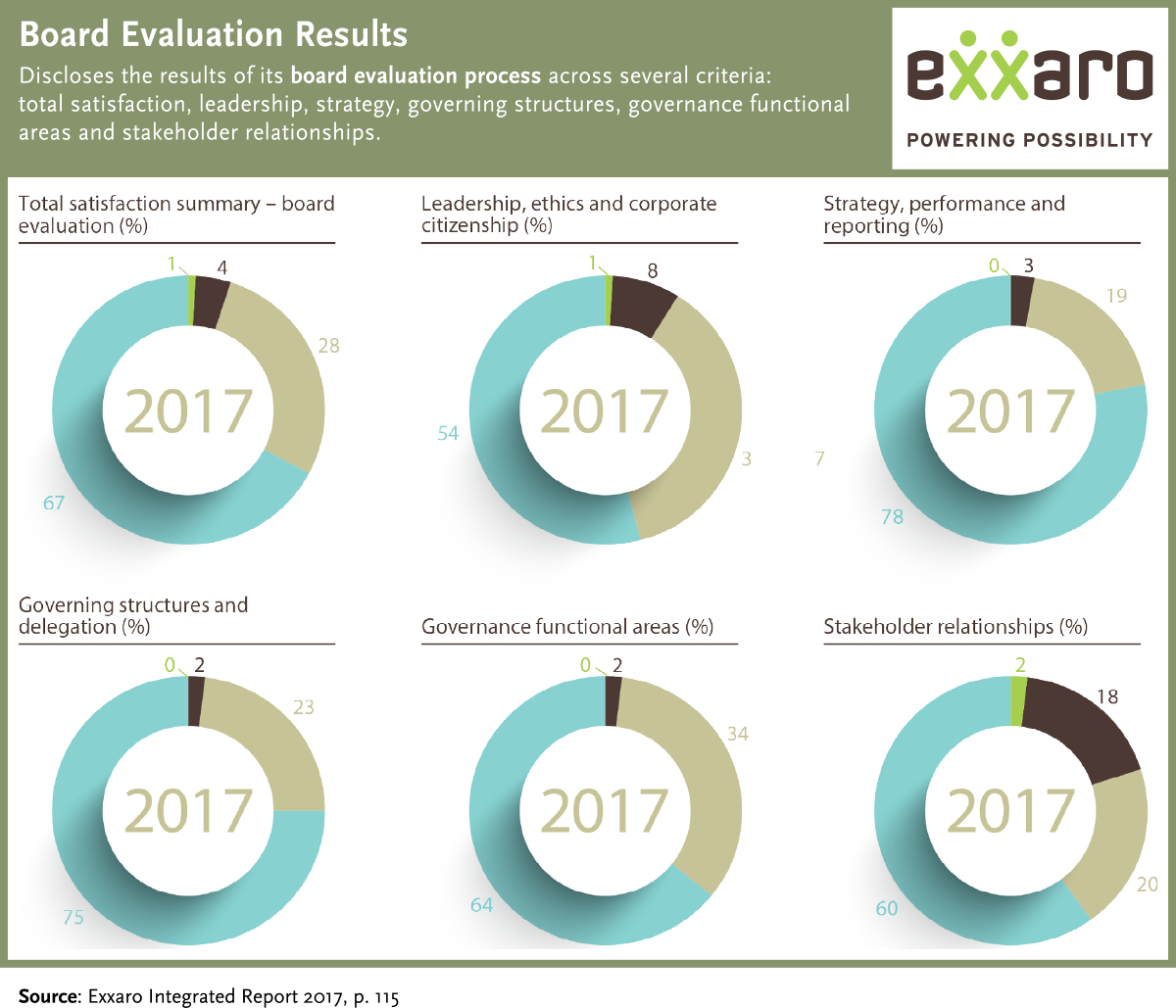 For example, Exxarro discloses the results of its board evaluation process, which can serve as a signal that the board is ensuring its effectiveness to discharge its governance roles and responsibilities objectively and effectively. Evaluation categories include total satisfaction, leadership, strategy, governing structures, governance functional areas and stakeholder relationships. The report also provides a detailed assessment of board composition across several diversity and skill metrics; showing that it has an appropriate balance to ensure effective leadership.
Gizem Argüden, Kübra Koldemir, Çağhan Karanberk